By LI Rujia
It seems like only a few short weeks since east China's Shandong Province was almost consumed in a BBQ frenzy that engulfed the small town of Zibo, catapulting it into the headlines and necessitating extra train services.
That's because it was only a few short weeks ago. But these short weeks have seen a big change in the weather with temperatures in Zibo regularly over 35 degrees Celsius and humidity off the scale. All over China, many other short-term crazes have been and gone.
As the small town roasts through day and night, is business cooling down? Do the BBQ fires of Zibo yet blaze so brightly, with hungry tourists basking in the greasy glow?
In short, no.
More than just BBQ
The hottest areas for barbecue in Zibo were Zhangdian and Linzi districts. Locals said that there were no more customers at restaurants than before the social media assault on the town.
Some popular restaurants are still doing well, but the party is well and truly over for the carnivores. Queues of hundreds of people are now fleeting memories of a few days of fame, a couple of months ago.
At a popular market previously packed with makeshift barbecue stalls, the cloying smell of sizzling flesh is all but gone. The space is now occupied by artists, and they are not just local hobbyists with poor renditions of misty mountains. The work of some of these artists has sold work at auction for more than 100,000 yuan (US$14,000). Here in the wet market, the artist will knock off a doodle on the spot for only a couple of hundred yuan.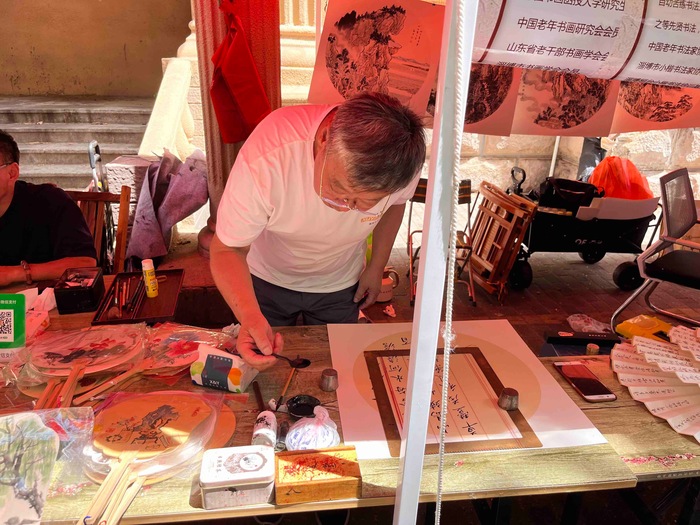 ZHAO Baozeng, a local painter whose work has appeared on Chinese stamps, began painting for tourists at the market last month. The paper fans he painted sold for only 20 yuan. Social media then did what it does, and obscene numbers of people were soon lined up.
Zhao has no wish to try to meet that kind of demand. He is just happy that people get to know Zibo is about more than just barbecue.
Soon, other painters and calligraphers set up their stalls alongside Zhao and the queues dissipated a little. Some booths issue queue numbers, while others take reservations. One artist is fully booked until September 30.
Near the hotel managed by ZHOU Yan, there are two newly opened barbecue restaurants around. When they first opened, they were crowded with people. The customer flow is not as high as before, but they are still full every night.
On Saturday, a tourist from Beijing went to a well-known restaurant at around 4 pm and queued for over two hours. Another arrived around 8 pm and queued for half an hour, nothing unusual when eating out in China.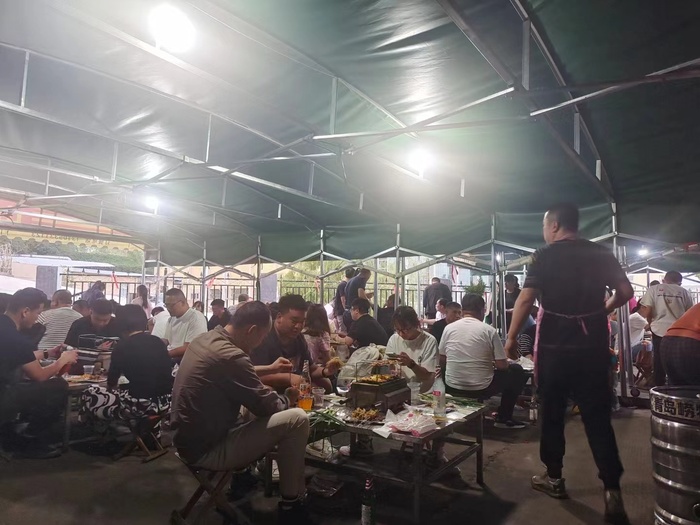 Zibo is Zibo because locals love barbecues. The BBQ madness was not some idea cooked up by the local tourist board or a clever marketing campaign by established operators. It was real food, sold by real people, in traditional ways, at least until hundreds of new "traditional" restaurants grew like fungus up and down almost every street.
The fly-by-night grillers set up in every available space may have vanished for good, but the old establishments operate as ever before.
The bird has flown
YAN Qi, a Zibo resident, told Jiemian News that when she was a child, there were three or four barbecue shops near her elementary school in a residential area with a stable flow of people. During the summer, the restaurants were always busy. Other restaurants may struggle, but barbecue shops have always thrived.
The newcomers, however, are not thriving. On online secondhand sites, all kinds of BBQ paraphernalia are on sale from plastic chairs to permits and real estate. Prices are as high as hundreds of thousand yuan, quite a lot for a bird that has flown.
Xu is the owner of a barbecue shop who wishes to transfer his business. It was only opened in April, and all the equipment is brand new. Xu's space can accommodate up to 26 tables and during peak craze, he says the shop was full every day. Now he has only eight tables and turns over only about 3,000 per day: a going concern that has already gone.
Xu spent 200,000 yuan on the eatery, and claims he has not recouped his investment. He has listed all his equipment for 160,000 yuan, and further claims in the ad that despite table occupancy of less than a third, business pressure is "quite high."
Hotel occupancy in popular areas of Zibo remains high. Zhou Yan said that business has decreased since the May Day holiday, but the occupancy is still over 90 percent, seven days a week.
Meanwhile, the search is on for potential tourist attractions in and around Zibo including a ceramics museum and garden. There are enough visitors to the museum for access to be restricted. The Zhongshuge Bookstore is busy every day. Tourism, for now, has become part of Zibo's daily life.
Traffic congestion has worsened. The town is now noisy at night, and restaurant queues during peak periods still obstruct the street. But there is still some money to be made and most people, for now, remain welcoming and friendly towards tourists.