By ZHANG Xilong
CHEN Sheng rinses rice and pours it into a big pot. "I'm the boss," he says, "so I've got to do a little bit of everything, including the cooking."
Chen is the "boss" of a factory – more of a workshop – on the fifth floor of an old apartment building in Kanglu, Guangzhou. Some machines haven't been used for so long that a thin layer of dust has built up on them.
He usually cooks for a dozen workers. But today, only four will be dining. Workers are hard to come by these days, even if the boss does make dinner.
"If someone offers 30 yuan an hour, I have to offer 40," Chen said.
No customers, no workers, no suppliers
But the sad truth is four workers are more than enough. Kanglu, like the rest of Guangzhou's garment district, will never recover from Covid. Tens of thousands of workers were first locked down and then sent home. The bigger, more existential uncertainty that has hung over everyone for years is now very large on the horizon.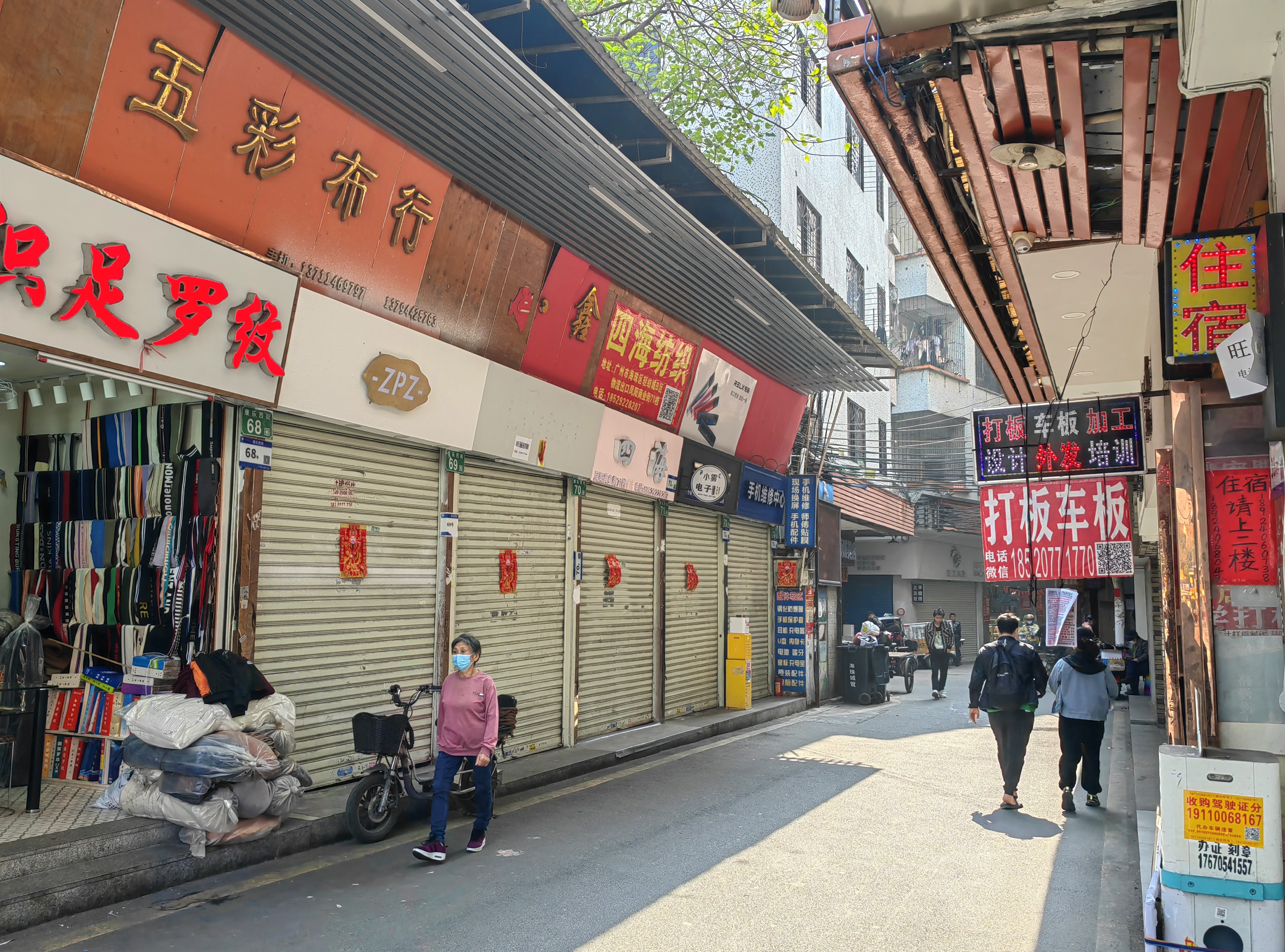 The government is very eager to redevelop the prime site in Kanglu - the neighborhoods of Kangle and Lujiang. But more than seven thousand textile businesses spontaneously gathered there in the early 2000s and crammed into buildings designed for residential use.
After years of prevarication, a redevelopment plan was finally confirmed in December last year. Factories, shops and warehouses – everyone - will have to move out, preferably to a small city called Qingyuan, 80 kilometers north. There will be sprawling industrial parks and shiny new factories – everything a "modern textile hub" should look like.
A few buildings have already been demolished, but many business owners in Kanglu still haven't made up their minds. Sure, they'll be moving out, But there is more to life than Qingyuan.
"I would say 80 percent of us don't want to go to Qingyuan. About a third of us are considering moving our factories back home. Only the minority is willing to give it a try," Chen said.
Chen himself doesn't want to move to Qingyuan, because no one else wants to. "There are no customers, no workers, and no suppliers," he said.
Workers follow the money
In Kanglu, buyers are used to the "three-day turnaround model" – confirming the order and buying fabric on the first day, sowing and packing on the second, and shipping on the third. "We can't do it as fast in Qingyuan," Chen said. When the time comes, he may move to Panyu, which is closer and more importantly, already has a sizeable cluster of textile businesses.
At a corner of Chen's factory, HUANG Ketong is sewing seams onto waist belts. Each belt takes 20 seconds, and she sews thousands of them a day.
Huang used to work odd jobs on construction sites. Eight years ago, she followed an acquaintance from her village to Kanglu. "Construction is too much for the body when you're old," she said. She doesn't have the skills to be hired by big factories but the work at Chen's factory is simple enough. "Young people don't bother to do this type of work anymore," she said.
She was surprised when she learned that the government is tearing down buildings two kilometers away. "When? Why? How many?" she asked. Almost every day for eight years, she has worked from nine in the morning to midnight and has little time or money for anything else.
Kanglu has everything she needs – barber shops, supermarkets, and incredibly cheap beds or rooms for rent. Beyond this, be it the rest of Guangzhou, or Qingyuan, she neither knows nor cares.
"We workers follow wherever money is. Move or not, it's the boss's decision," she said.
Soft, friendly, affordable
MENG Tinghao's factory sits next to a lot of strewn rubble. His building is nicer than most in the area, with spacious common areas and a cargo escalator. Meng set up an office for himself, which has a 27-inch monitor for gaming and a big couch for lounging around.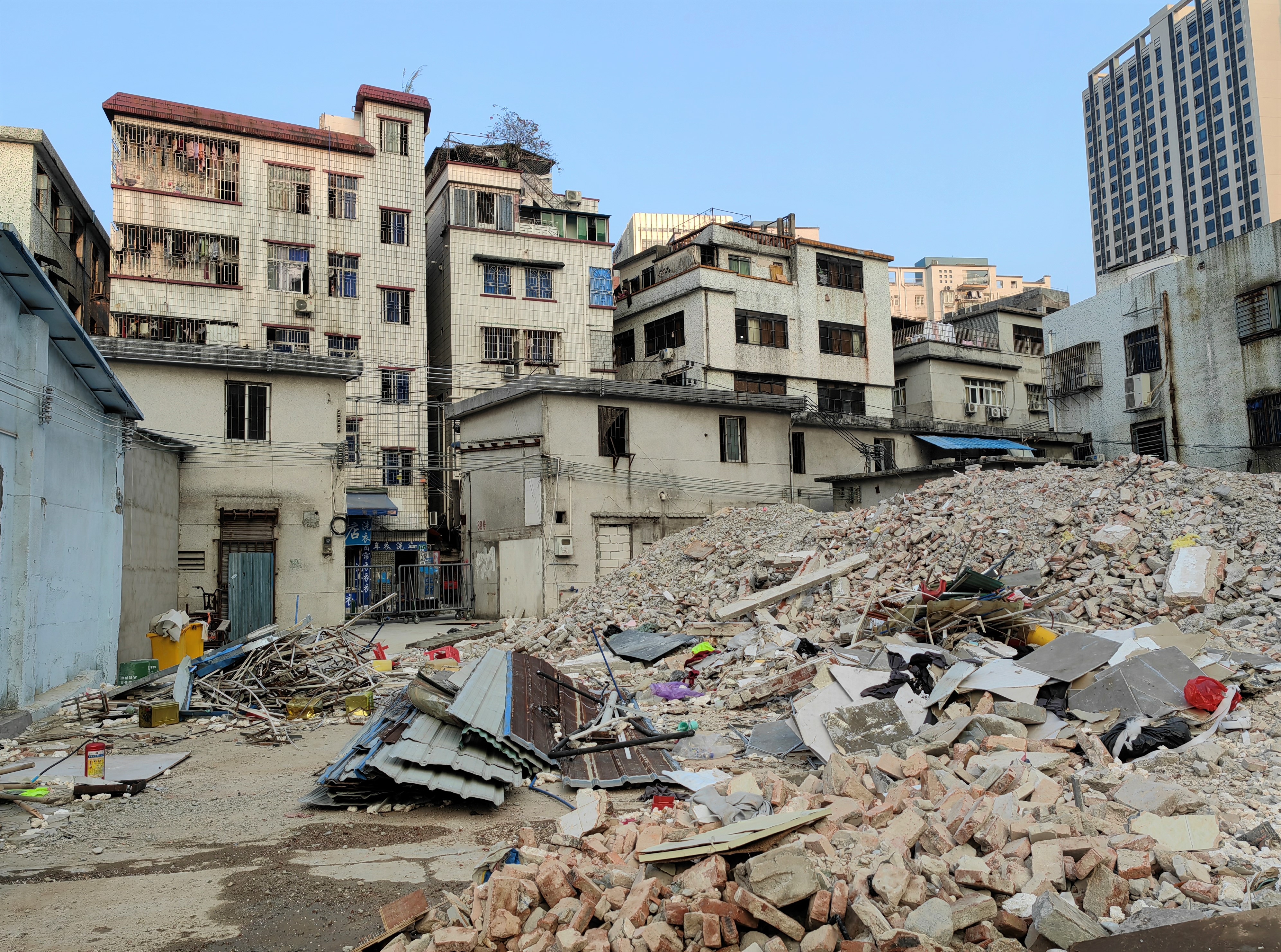 Unlike the typical Kanglu factory owner who lives at work, Meng enjoys everything Guangzhou offers. "Guangzhou is great. It's 'soft,' friendly, and affordable. I go out with my wife all the time," he said.
A proud millennial, Meng opened the factory three years ago because he wants to be his own boss. He grew up in the northeast, 3000 kilometers away on the other side of the country, and worked as a salesman briefly in Beijing after college. Not a fan of the nine-to-five lifestyle, he moved to Guangzhou and opened a wholesale shop with his wife. The problem, though, was that he was still at the mercy of suppliers. He bought a 250-square-meter factory for 400,000 yuan.
"It's exhausting. I deal with workers, and I deal with buyers," he said. But he has some agencies at last, although he still needs to figure out how much to pay workers. "Too much, I lose money. Too little, no one comes," he said.
More than half of Meng's buyers are wholesalers in Guangzhou. If they continue to request three-day turnarounds, Qingyuan is simply impossible.
"If we all move to Qingyuan, I will. It's my livelihood," he said, taking note that there are already small clusters of garment businesses in Banyun and Panyu, which Chen Sheng is also considering. "I don't think Qingyuan is better than either in terms of business opportunities.
The blueprint is to keep development and trade in Guangzhou and move factories to Qingyuan. The ten-thousand-acre industrial park will have designated zones for large factories, family-owned workshops, facilities for fabric makers, and warehouses specially designed for e-commerce.
Unwanted opportunity
But little has been said about where to find workers or buyers. No one knows either when or how to relocate each one of the over 7000 companies. A local newspaper reported that the government has divided businesses into three groups – big ones to support, medium ones to keep, and small ones to be gotten rid of.
There are precedents to follow, however. Since 2016, Guangzhou has been slowly upgrading Xintang district, the "jeans capital of the world." High-value businesses such as designers and marketing companies have been allowed to stay around.
Heavy polluters were either shut down or moved inland. Farther away, Beijing closed its legendary clothes wholesale market in 2015 and dispersed sellers to surrounding provinces.
For the garment businesses in Kanglu, relocation is sold as an opportunity to digitize, modernize and globalize. It's a beautiful vision but factory owners need to survive in the short term.