By TANG Jun
After more than 30 years of service, the east coach terminal in Haikou, capital of China's resort island of Hainan, will cease to operation in April. All coaches will depart from another terminal.
According to Hainan Haiqi Transport Group that owns the coach business, only about 500 people go to the terminal on working days. Even in holidays, the figures rarely exceed 1,000.
Old and moving slowly
Many other coach terminals are facing the same problem. Data from the Ministry of Transport showed that the number of passengers taking coaches to travel long distances had fallen from 1.9 billion in 2014 to 1.3 billion in 2019. There are now only 600,000 coaches left nationwide, down 30 percent from 2016.
That means in 2021, a coach averagely took carried 24 passengers a day. Many short-distance coaches depart several times a day, so could be carrying only a handful passenger on each trip. In Guangzhou alone, eight coach terminals have closed since 2019.
A Jiemian News reporter came to the Chengdu coach terminal on Monday and saw only one passenger standing in the worn-out terminal hall. Most stores in the waiting hall were closed, including a McDonald's, the only restaurant in the terminal.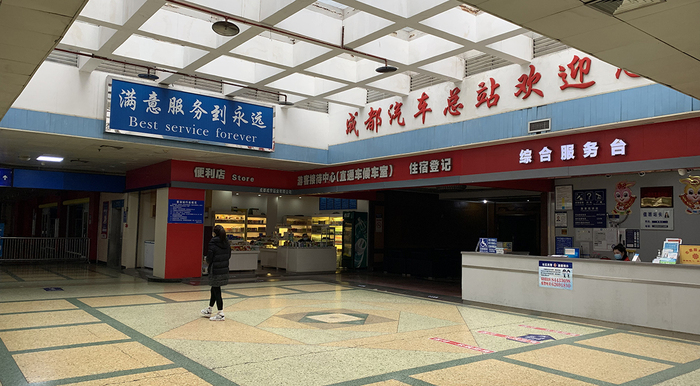 Staff said many routes have been canceled, and those who still travel by coaches are mostly old people, who prefer the slower pace to high-speed trains, which like a lot of things in their lives, are too fast.
Bumpy ride for coach services
High-speed trains are the main reason that coaches flourish no more. In the past decade, the high-speed-rail network has grown from 11,000 kilometers to 42,000 kilometers, and passenger flow grew 73 percent from 2013 to 2019.
The train connecting Chengdu and neighboring city of Yibin started running in 2019. The coach price instantly dropped from 106 yuan to 60 yuan, only half of the cost of the train ticket. But between a three-and-a-half bumpy ride across the mountains and comfortable 90-minute train ride, the choice is not hard.
Even the coach ticket vendors recommand people to travel by rail. At the Chengdu coach terminal, when a passenger approched to ask for a ticket to Yibin, he was told to go to the railway station. There are only two coaches a day left from Chengdu to Yibin. The passenger would have been waiting for six hours at the bus terminal, but a high-speed train departs every five minutes.
The explosive growth of car ownership hasn't helped. Since 2012, the number of cars in China has tripled, growing from 120 million to 420 million. Among those who travelled during the Spring Festival holiday, two thirds drove their own cars.
Customized solution
The coach companies are not simply waiting for their time to come, they have tried to put up a fight. Since people no longer go to the terminals, some pick people up on their doorstep. Passengers buy tickets online, and they can choose when and where to get on the coach. In small towns, the coaches pick passengers up from home. In bigger cities, coach stops are often designated near subway stations.
Yilai Transport in Sichuan Province has over 300 coaches. If the trains and cars are main arteries, coaches are capillaries connecting places where the railway and expressway can't reach. Yilai's orders doubled from 2020 to 2021.
Sichuan Fulin Transportation Group, a Shenzhen stock exchange listed coach company, had its revenue halved in 2020 compared with 2015. But after introducing customized routes, things started to pick up. In the first six months last year, more than 14,000 people used Fulin's coach service every day.
While the industry expects a 50-percent recovery this year, more coach terminals will disappear. Those in big cities may remain as transit hubs, but in smaller towns, terminals will sooner or later be a thing of the past.