By FANG Zhuoran, XUE Bingbing
The time was 0:16am January 8, at Guangzhou Baiyun International Airport. Passengers from Toronto disembarked without PCR tests or quarantine, passed immigration checkpoints quickly, and rushed to greet their friends and family. Many tears were shed and they left the airport.
This was the first inbound flight since China's new rules came into effect. In 2020, China classified Covid as Category B infectious disease – same as HIV and bird flu – but treated it as Category A disease, putting it on par with cholera and Bubonic plague. From March 16 that year, all passengers from inbound flights went through a 14-day centralized quarantine. Late last year, that was reduced to 10 days. Now, after 1,028 days, inbound travelers can finally go straight home, homes that many of them had been missing for three years.
Final

duty
At 8:30pm on Saturday, airport staff at Pudong International Airport in Shanghai started to take down fences in the terminal building. PENG Chao, a police officer, waited until 10pm after all inbound passengers were taken to the quarantine hotel, but they wouldn't be there long. There they would get a PCR test and those who tested positive would be asked to self-quarantine or go to a hospital. The rest would go home the next day.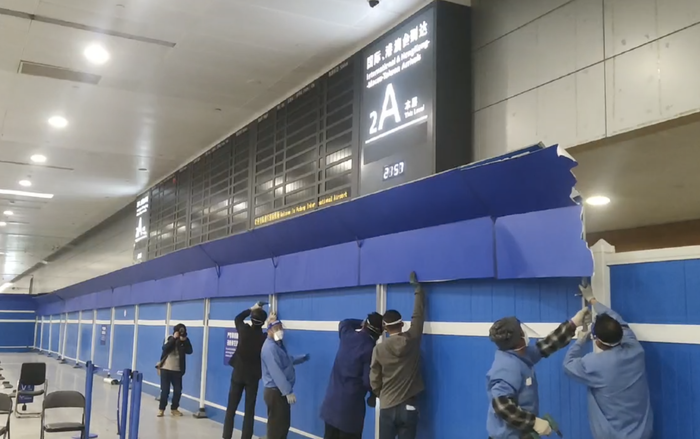 Peng's two-and-a-half-year routine in the hazmat suit was coming to an end. He and his team packed up their makeshift office. At 0:00am Sunday, an order came and Peng left the airport.
Welcome home
Ms.Ye arrived at Shenzhen Bao'an International airport from Singapore at 00:23am. She cleared customs on her phone and only had to scan a code and show her passport. Fifteen minutes later, she picked up her luggage and went home. No Dabai – staff in hazmat suits – swabbing throats. No buses taking travelers to quarantine hotels.
LI Mingyu is studying in Auckland, New Zealand. . She hasn't been home for more than three years. She touched down at Pudong International Airport at 6:31am to be greeted by her father, holding high a red paper with "Welcome home, my daughter" written on it. Li burst into tears as she rushed into her family's arms.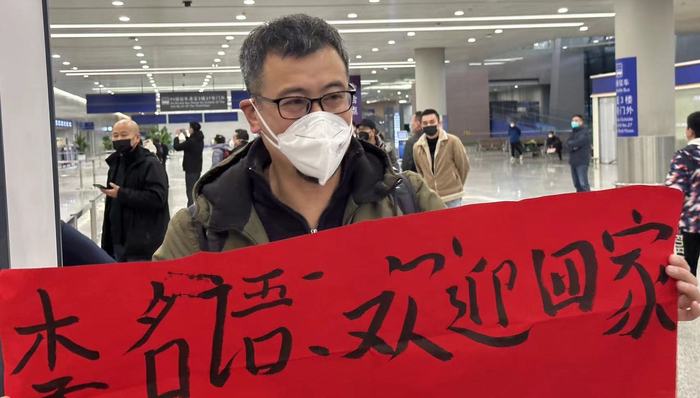 "Every new year I tried to go home but couldn't," she said sobbing.
Heartwarming return
Carl Nelson of CH Biomedical arrived in Shanghai from the US on Sunday morning. When the artificial-heart expert first came to Shanghai in early 2022, he waited hours at the airport for a shuttle bus to take him to a hotel and spent two weeks eating box lunches.
"It's good to be here, without any isolation," said Nelson. "I'm getting back to work tomorrow."
End of eternity
For international flight crews, the past three years have seemed like forever.
Statistics from Air China showed in 2020, about 100,000 crew went through central quarantine. Each crew member was isolated in a hotel for more than 36 days that year, some were in hotels for over two months straight. For those flying wide-body airliners, almost one-third of 2020 was spent in hotel rooms.
Ground service staff were also under huge pressure. LI Xinmeng of China Eastern Airlines said the staff were on a 14+7+7 loop: working two weeks straight at the airport, quarantine at a hotel for a week, home quarantine for a week and back to work.
"Last year, more than 210,000 staff went through quarantine," said Li. "One of our people spent 293 days in hotel rooms."
Back to life
A China Southern Airlines captain said his routine in the past three years was to sanitize the aircraft after all passengers got off – wearing a hazmat suit – and have both his nose and throat swabbed before heading into quarantine for however long that took.
"Now we have our lives back," he said.
Online travel agency Tongcheng Travel said international flight ticket orders after January 8 went up sixfold to the highest level since March 2020, 48 percent are for inbound flights.