By MA Yue
When his ultramarathon races were canceled earlier this year due to Covid outbreaks, Sanfeng Posan, a runner, started a SUP club (stand-up paddleboarding). Within a month, 450 people had signed up. Unable to travel, rich young people now need to get their thrills closer to home.
On any warm weather day, the glassy surfaces of Beijing's rivers and lakes are speckled with colorful paddle boards. A few people might be rowing vigorously. Most likely new to SUP, people paddle gingerly across the water. Some are even with their dogs.
SUP didn't find an audience in China until the late 2000s. But young people have increasingly taken to the sport during the pandemic for fun, thrills and social media points.
Search SUP on microblogging platform Weibo, and tens of thousands of photos of neon-colored boards, well-toned abs, and triceps turn up.
"Not wasting this summer," a user wrote.
"Sanya is beyond reach. The moat is my happy place," another said.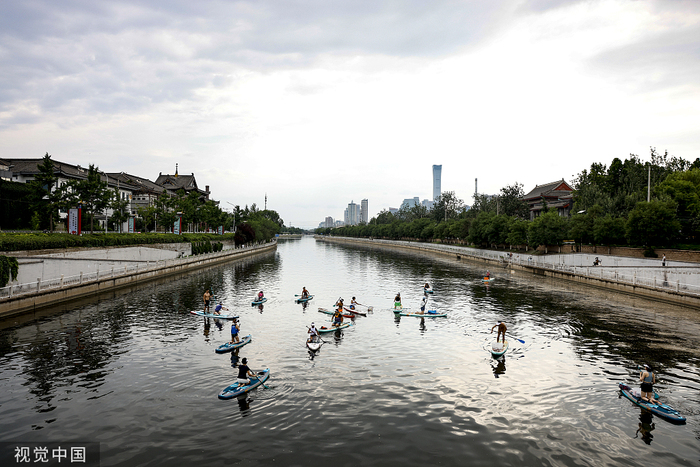 "We had about 500 members as of last year. More than 600 new members joined in the first six months of this year," said WANG Xue, partner at SUP club AquaX Academy.
"We used to have to explain to people that this is how you stand on the paddleboard and row. Now you mention SUP, everybody knows what it is."
Liana Chai, manager at Chillin', another SUP club, has the same impression. "A couple of years ago, there might have been one or two paddlers on a given day. Now, you can probably see hundreds of them on a weekend afternoon."
SUP has attracted beginners and experienced sportspeople alike. It doesn't require expensive equipment, special water conditions or extensive training. Even non-swimmers can paddle across an urban lake breezily on inflatable paddles with a few hours of lessons. For hardcore outdoor enthusiasts, it is a passable substitute for more thrilling activities like skiing and surfing.
LI Xin, who got into SUP eight years ago, calls it a sport for everyone. The paddle board is versatile, he said, and can be used for surfing, rafting or simply floating around.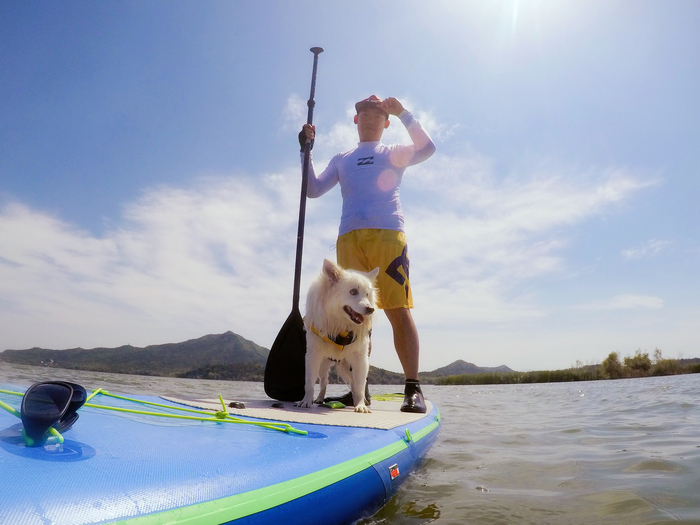 "If you can swim or surf, SUP comes naturally. If you go to the gym regularly and have strong back muscles, you can master it quickly too. And there's SUP yoga, which is also great. Even if you are not active, it's fun just to paddle around," he said.
"You can call it surfing-light," said Wang Xue. "Those new to water sports can get a taste of surfing without chasing huge waves. Experienced sportspeople can get their adrenaline rushes from racing."
Social media has contributed to SUP's exploding popularity. For many new converts, the sport is as much about photos as exercising, if not more. Photographers are a must for group training sessions. Some clubs even organize "paddling with dogs" outings.
Liana Chai says Chillin' markets itself as a lifestyle brand. It takes members out camping around lakes.
Camping, or glamping, is another activity that has surged in popularity since the pandemic.
"We camp one night and paddle the next day," she said. "Picnics on the water are not unheard of either these days."
Some are even beginning to wonder whether SUP is a good investment opportunity. But those already in the industry are unsure. Clubs and equipment makers describe their customers as over 80 percent female, living in big cities, aged between 28 and 35. After all, 1,000-yuan paddles and 500-yuan lessons may not be exorbitant for urban elites, but it is still pricey for most people.
Safety regulations, tournaments and even coach training also need to catch up.
"Coaches not only need to know the techniques. They have to be professional lifeguards," said Li Xin.
There are no rules regarding who can go on urban lakes and rivers and under what circumstances. This might change, too, as purists begin to worry that the waters in Beijing are getting just a little too crowded.