By YANG Shuhongji
When the Covid pandemic first broke out in Wuhan, Hubei Province two years ago, Jiemian reporter Yang Shuhongji worked as a community volunteer there and wrote about his time locked down there. His experience in Shanghai is a little different this time. More than half of the residents in his community are old people. Here is what he saw.
Our community reported its first case on March 16. That night, Chen Bin set up camp in a two-square-meter guard's shack at the entrance. I gave him a power bank and an electric scooter. From my experience in Wuhan, these will be lifesavers in the days ahead.
An experienced community worker, Chen would be taking care of the needs of 900 residents. Under him are 15 security workers, who live in four large emergency tents swiftly built that night, and a roster of volunteers, myself one of them. The security workers deliver food, handle garbage, and coordinate mass testing. The volunteers make sure they don't miss anyone or anything.
Every day, Chen makes his rounds to check on the sick, the elderly and children. His phone buzzes almost nonstop with mundane requests – a clogged toilet, a broken stove, someone is locked out. Maintenance workers can't enter without permits. Sometimes Chen, a painter by trade, fixes things himself.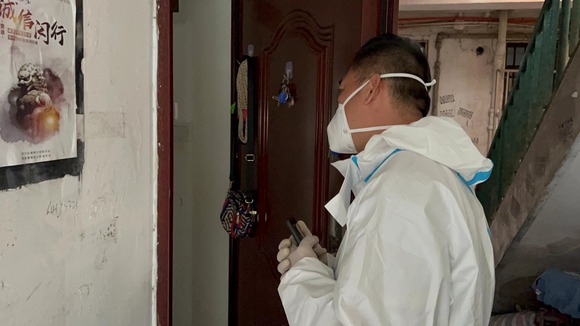 For about two weeks, things were easy. We were still able to shop online and get meals delivered. On March 28, Shanghai imposed a strict lockdown. Businesses were closed. Everyone – 25 million in total – was told to stay at home.
The next day, I met a builder who had not left a half-finished apartment when the stay-where-you-are order was issued. For two weeks, he had been ordering meals online. Now restaurants were all closed and he hadn't eaten for a day. I called Chen, who added him to a list.
Not only do people need help, but every day, a security worker takes cat food from an old lady to feed three strays she has been taking care of for years. She throws down food in a plastic bag from her sixth-floor balcony – because "cats don't eat stale leftovers" – and calls the cats by their names as the security worker pours the food into their bowl. She lives alone. There are huge bags of cat food piled outside her tiny apartment.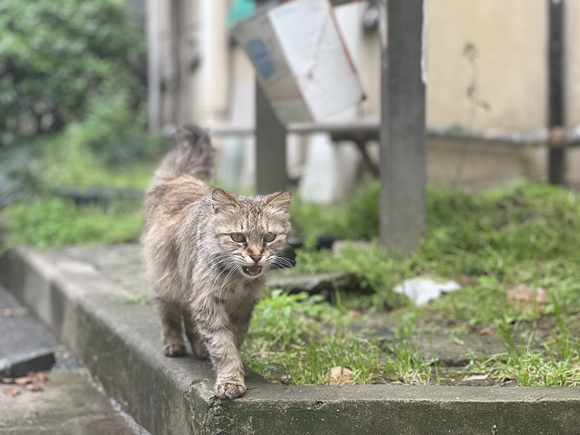 Emergencies arise from time to time. An old man had an infection in his toe. From a photo sent by his neighbor, two doctors in our community, after looking at the photo, said he needed to go to a hospital. There was no guarantee that we could secure the tests, approvals and special vehicle on time, and the man began to despairingly talk about "losing a toe." Eventually, everything turned out OK and all his toes are still intact.
On another day, an old man didn't show up for mass testing. Neighbors could hear someone moving in his apartment, but no one answered the door. Fearing that the man might have fallen and didn't have a cellphone to ask for help, we tried to look into his window from another building but didn't see anyone inside. Eventually, someone found an old landline number. The man said he was old and unvaccinated and was too afraid to come out or even open the door. We left groceries and supplies on his doorstep.
There seems to be a firefight every other day, and it's not just for old people. We bought milk, bread and dog food for a Japanese man, who speaks no Chinese and has no idea how to participate in group buying. A pregnant woman was close to her due date, now back home with her newborn.
One day shortly after the lockdown began, a reporter friend from Dujiangyan of southwest Sichuan Province texted me that her city had just sent 120 tons of vegetables to Shanghai. "Shanghai helped us a lot in rebuilding Dujiangyan after the earthquake in 2008. And I'm happy that Dujiangyan is doing its part in supporting Shanghai," she said.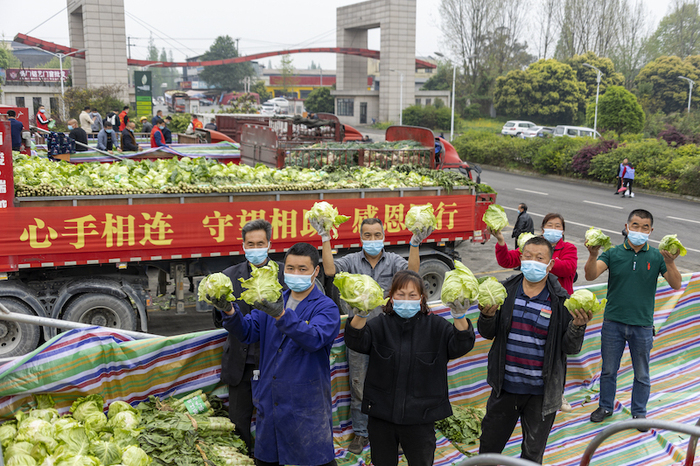 She and I first met in 2018, when I went to Sichuan to cover the ten-year memorial of the big earthquake. Many new public spaces and community facilities were funded by Shanghai-based companies, and many doctors, teachers and community workers stayed for extended periods of time to help with the rebuild.
In fact, Shanghai has led the country in aiding underdeveloped areas. This time as a volunteer, I have unpacked and distributed donations from places that received help from Shanghai. This makes me exceedingly proud of my adopted city.
On April 8, after weeks of daily testing with no new cases, three families surprisingly tested positive. This meant another two weeks at home. Around the same time, workers and volunteers nearby contracted Covid. Neighbors were not happy. Many complained about long waits and large crowds at testing and questioned whether such procedures were actually counterproductive. Making matters worse, our PPE was running low. For a few days, we volunteers were reduced to reusing disinfected raincoats.
Some neighbors took note of our battered look and quietly started a crowdfunding page for us, which raised 13,000 yuan overnight. It was a huge boost to morale. Despite all their complaints and criticism, everyone was still with us. I was also able to connect with a nonprofit in Shandong through an aid program started by Jiemian News, which donated 500 pairs of latex gloves.
Taking criticism to heart, we reviewed our testing protocols and reworked our package disinfection procedures. Crucially, we consolidated group-buying channels – instead of buying toilet paper from group A, tampons from group B, and groceries from five other groups, for example, everyone now buys toiletries from one large group and food from another – to avoid chaos at disinfection and delivery.
Two weeks later, we were Covid free for two weeks and the stay-at-home order was finally lifted.