By HUANG Yu
Evergrande ran into a small problem in Hainan, China's tropical island paradise, last year. Screenshots of a government order ordering the demolition of 39 buildings still under construction circulated on social media. Evergrande confirmed that the building permits concerned were invalid on January 4 and has appealed.
"Ocean Flower Islands" is a 160-billion-yuan (US$25.1 billion) project copied from Dubai's Palm Jumeirah. Three flower-shaped artificial islands have been under construction since 2015. Some earlier phases are already in use.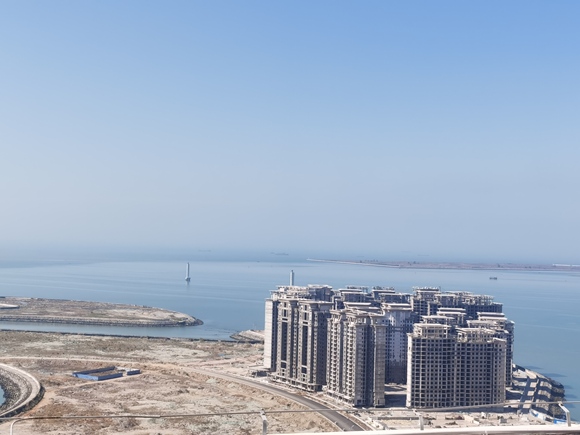 Coral over condos
When Jiemian News arrived late at night of January 4, Evergrande shuttle buses were still ferrying visitors from Haikou airport 140 kilometers away. Many were "snowbirds," people from northern provinces wintering in second homes. Others were potential buyers or tourists. Almost all of them got off at Island No.2, where the buildings are to be demolished.
A couple from the northeast said their daughter bought them a unit in Ocean Flower Islands in 2019. It was the peak of the local housing market and they paid 20,000 yuan (US$3,100) per square meter. They don't mind the price, though. The weather is just gorgeous.
The local authorities ordered work on the offending building to stop in May last year when 2,700 residential units were already on sale. More than 300 were sold when the online sales system was shut down in October. Buyers were given the option to switch to similar units in nearby buildings or get refunds.
In a statement on January 4, Evergrande stressed that the demolition order "applies only to the 39 buildings on plot 2-14-1" and "does not involve other plots in the Ocean Flower Island project."
Ocean Flower Islands welcomed over 5 million tourists last year. Most shopping and entertainments are on Island No. 1, there are two popular light shows every night. A theater, shopping malls, and theme parks are still being built.
Evergrande signed the agreement to build the islands in 2010. Located on the west side of Hainan, the complex is far from the beaten tourist track. Evergrande claims it had all the needed by August 2013. Land reclamation started soon afterward and sales opened in 2015, the year that construction started. The first day brought in 12.2 billion yuan in sales. An Evergrande brochure said a unit was sold every 3.2 seconds.
Prices rose for five years. By 2020, the price had almost quadrupled to 20,000 yuan per square meter from 2015's 5,600 yuan.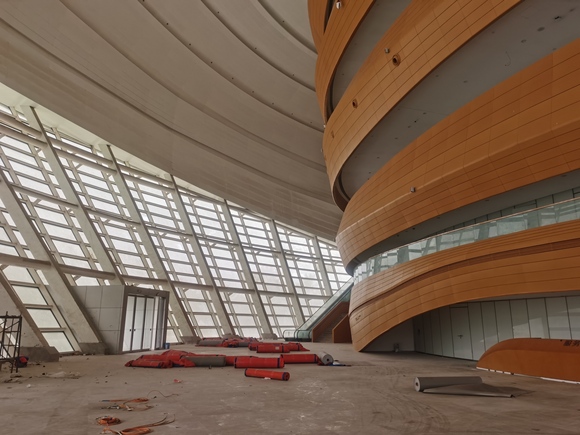 Little did buyers know then that an environmental investigation was already underway. In August 2017, the Ministry of Ecology and Environment found that Ocean Flower Islands would damage coral reefs. The local authorities had taken advantage of a regulatory loophole by cutting the project into small parcels to lower the environmental standards they were subject to. In other words, Evergrande's development permits were illegal to begin with, but Evergrande simply paid a fine to the Danzhou government who issued the permits in the first place, and work continued.
The Ministry came back in July 2019 and found that nothing had changed. Danzhou found itself in hot water and Evergrande was told to stop sales of the 39 illegal buildings. On December 30, 2021, the shame-faced Danzhou government ordered the buildings to be torn down.
High profile casualty
At least five other artificial islands in Hainan face the same fate. Hainan started land reclamation as early as 1988, but the pace accelerated after 2008 when the island began to promote tourism. From 2013 to 2016, 5.5 square kilometers of new land was created every year, five times as fast as it had been in the past 20 years.
The Ministry of Ecology and Environment started scrutinizing Hainan's biggest projects in 2017. Noncompliant developments were suspended, putting an end to land reclamation in Hainan.
CHEN Minghui, manager at a realtor, said that restrictions on new projects are very tight and investment is down 35 percent from its 2017 peak. Sales have more than halved, both in volume and transaction amount. Hainan's building boom was truly over with Evergrande just the highest profile casualty, he said.