By LU Keyan
It's 1am on a Tuesday in Shenzhen's Huaqiangbei district. By day, the place is a hubbub of buyers and sellers, wholesalers and retailers, wheeling and dealing, mostly over electronics. At night, the streets and alleys are taken over by trucks and delivery vans. Most truckers go home after 9pm, but XIE Weimian stays for another few hours and often gets lucky. He has to, a family of five counts on the money he makes from these extra hours.
He knows every crack in the pavement of the district, home to 25,000 businesses. He hauls almost anything that is sold here: phones, crypto mining machines, lipsticks. In 2016, he spent all night hauling finger spinners.
Xie feels the pulse of the global economy. Things have changed a lot. The digital markets in Huaqiangbei are mostly occupied by cosmetics dealers, and as the authorities continue cracking down on piracy, Huaqiangbei's night has been quiet for a while.
The last time Xie saw Huaqiangbei's night bustling was when a mall was declared structurally unsound a few months ago. The truck drivers helped in the nocturnal evacuation of crypto mining machines, which to his knowledge were "super expensive loads that look like computers". He finished unloading his truck when his phone buzzed with another order.
Now factories whose machines never stopped humming before the pandemic are now quiet at night. At 3am, Xie parks up and walks home.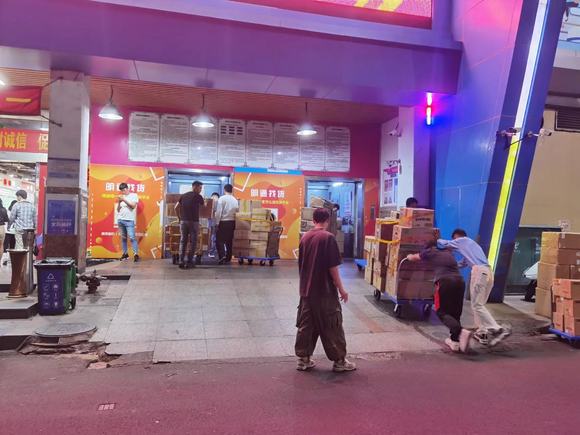 Dawn breaks
Two hours later, LI Yuanpu wakes up. Gas costs 1.3 yuan less before 7am so many truckers get up and fill up early. Early birds like Li smoke and chat on the curbside. There are over 11,000 truckers active in this area. Soon enough, the Huolala app will start pinging and won't stop for the rest of the day. Huaqiangbei is the busiest neighborhood on the haulage app, as big as the next nine combined.
Before Huolala, all business was done on street, on a handshake, with no bidding involved. "If a trucker said 100 yuan, others knew not to undercut him," said ZHONG Zexi, who owns a streetside phone-repair shop. "Everyone made money."
Not that shippers bothered to bargain anyway. Zhong remembers cellphone sellers go home quite literally with sacks of cash, too busy making money to haggle over a few kuai.
Li Yuanpu joined the ad hoc fleet in the 1990s, after having lost all his money in the construction business. At the time there was no skyscraper at all, drivers lined up in front of factory plants, waiting for their next meal. Hardworking and easy on prices, Li is popular and successful. He gets up early to find a good spot on the curbside so that shippers easily found him. Li prefers short trips because he doesn't have to worry about finding a load on the way back.
On the other hand, LI Jie, 27, likes long hauls because "that's what truckers are supposed to do." He has been in the trucking game for nine years and makes 20,000 yuan (US$3,500) a month.
While many waits for orders from their phones, "Big Liu" refuses to have anything to do with mobile apps. Customers call him when there is work because they know he is willing to take on any job, including unloading and moving. These are usually the jobs of another guild in Huaqiangbei with its own hierarchies and rules. There are apps for them, too.
Raised in the family business
Trucking used to be a small, family business. While the husband was driving, the wife stayed home to look after the family. But there are more female truckers these days, HUANG Yalin among them. Huang does everything her male counterparts do while taking care of her 4-year-old daughter, Xiaoqi. The girl spends most of her time out of school in the truck with her mom and is already half expert on trucking. When Huang picks up a shipment, Xiaoqi asks, matter-of-factly, where does this order go?
Her husband is also a trucker and she once was his "helper." She laughs at how nervous she was when she first started driving. "Now I don't even mind walking home alone after midnight," she says. She worked until four days before she gave birth to Xiaoqi. Her husband wanted her to stop, but she didn't want to lose her customers, and she certainly needed the money, more than some rest.
Li Yuanpu is also in it for the money. He rents a room near Huaqiangbei with his wife and eldest son, who needs round-the-clock care. Li prefers to stay close so that he can start taking orders the moment he wakes up, but he always makes sure to go home for dinner. It is the happiest time of his day.
Famously frugal, Li saved enough for two houses, one near his hometown which he bought for 450,000 yuan in cash. The second, in Chongqing, is for his younger son.
Although it's not his place to ask, Li sometimes thinks about what he is hauling. Having been in Huaqiangbei for over twenty years, he has seen a lot of hypes, trends, and even entire industries come and go. He remembers the 1990s, when "a traffic jam in Huaqiangbei caused computer part prices to go up everywhere in China."
Then came smartphones, Amazon, crypto mining, and now cosmetics. People come and go, too. Some sellers got rich overnight. Some simply disappeared. When some people leave, it is for the better.
Into the sunset
But to some extent, they never leave. A smartphone maker needs chips, as well as all kinds of small parts. Huaqiangbei is the only one-stop shop. Though it may not be as dominant as it was twenty years ago but is still powerful in its own way. It is by far the biggest electronics market in China and its prices serve as the benchmark for the entire market.
Now a comparatively wealthy man, Li looks on with distant interest. He has great respect for the serial entrepreneurs in Huaqiangbei, who sometimes fail but are never beaten, but reckons that he was not made for business. He will just keep saving. When he has enough money, he will retire.