By ZHAO Xiaojuan
The new Sam's Club opened on September 26 in Shanghai is the biggest of its kind in the world. Roads to the citadel were jammed two hours before the grand opening. At the entrance shoppers with carts as big as pickup trucks, snaked slowly past mountainous ridges of giant Toblerone and towering monoliths to the potato chip makers' art.
Sam's Club is doing quite well despite the pandemic, especially in China. New memberships doubled in Q2, and sales go from strength to strength. For years, stores in Beijing, Shanghai, and Zhenzhen have been Sam's Clubs' brightest stars.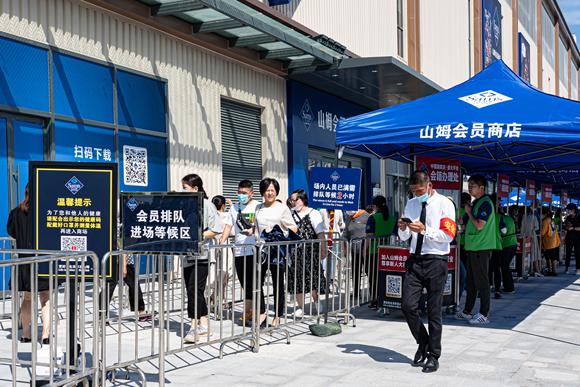 Everyone comes to Sam's
The membership model — customers pay upfront to gain access to deals later — was unfamiliar to Chinese shoppers until recently. Sam's Club had 12 stores in China in 2016 and now has 34 with two more planned to open this year — new stores are bigger, fancier, and more popular than ever.
President of Sam's Club China Andrew Miles told Jiemian News that the pandemic pushed the grocery scene in a new direction. "Must-tries at Sam's Club" on social media have helped build a loyal fan base. The model is so successful that other grocery giants have joined in, with their own subscription program.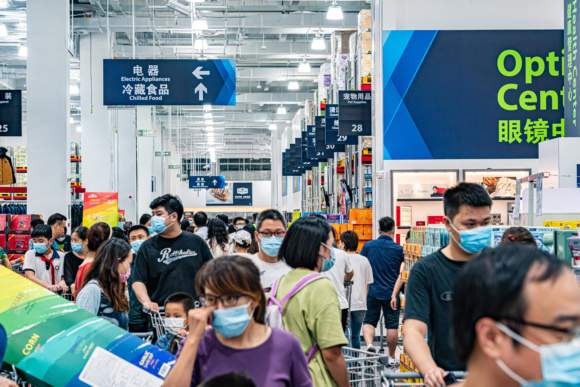 Alibaba's Hema Fresh makes no bones about the origins of the model with the timeless strapline: "Same as Sam's Club, but cheaper." If members find a better deal at Sam's Club, the price difference is refunded. Metro opened a members-only store in Beijing this year after poaching some of Sam's executives. Carrefour will open one in Shanghai this year. But none of them pose any immediate threat, a senior retailing executive said.
Costco, a late-comer but strong competitor, looks like the No.1 contender. Costco has taken a free ride on Sam's Club's years of "customer education." The Costco store in Shanghai signed up more than 200,000 members in 40 days after opening and sold 2.4 billion yuan (US$400 million) of goods last year. It remains the only store in the country, but the next will be in Shenzhen, Sam's home turf. The club's Shanghai razzamatazz could be seen as a preemptive strike against a foe who is still gathering its forces.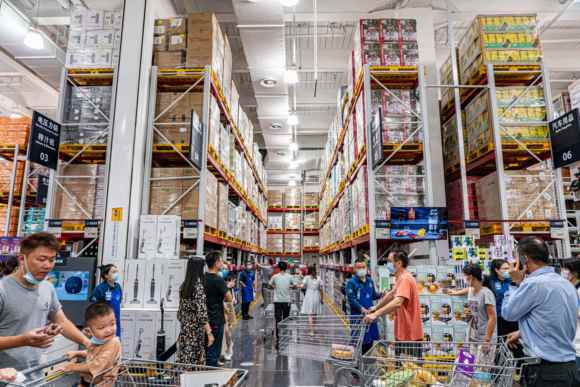 According to Miles, competition drives innovation, and Sam's Club welcomes it. Even non-members can come up with a list of Sam's Club signature products — swiss roll, mille crêpe, and steak. There is nothing particularly special about the products apart from their size, so Sam's Club works to stay ahead of the game. When other grocery stores also started selling mille crêpe, Sam's Club replaced the margarine with cream and made the cakes even bigger. In a Beijing store, every batch was gone before it rolled out from the kitchen. The store sells over a thousand cakes each day.
Steak dinner
Instead of carrying as many items as possible, loyal customers also make the store powerful in front of suppliers. A lot of effort goes into scouting and selecting products. The club tries to make every item sell. Goods are priced close to cost and the store makes money from the membership fees. Membership renewal is critical. The chain lost some members when the annual membership fee was increased from 150 yuan to 260 yuan in 2016, but many rejoined a few months later. The extra was worth it, even if they bought nothing but steaks.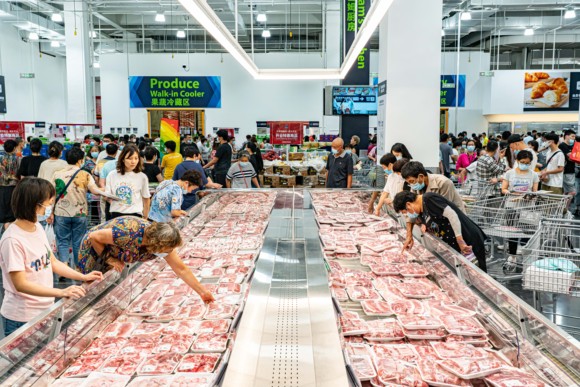 Online sales have been picking up as well. Miles said the online stores attract young shoppers, and that a more diverse customer base helps the company make better product decisions, but brick-and-mortar is still the core business.
There will be 60 Sam's Clubs within three years, most will be in the suburbs. Costco has 11 new stores planned. With over a billion potential members, the opportunities are too good to be missed.