By LIU Yujing
China's venture capital firms are weary and wary. The regulatory net has descended on the online economy and opportunities, for now, are hard to find.
Deals like M Stand are among the most sought-after this year. The coffee chain startup closed a 500-million-yuan series B round in July, three times oversubscribed.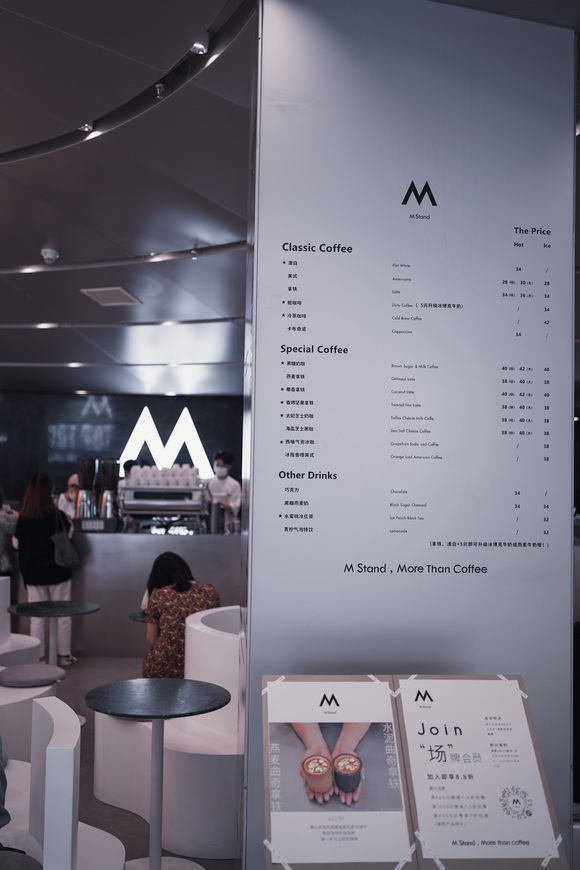 Manner, a more boutique chain, completed four funding rounds in six months. Seesaw and Algebreist attracted big venture capital funds in their early rounds. Even Double Win, which once prided itself on not taking outside investment, closed an angel round this April.
Is the luck back in?
While investors and coffee lovers see the boom as a promising sign that the industry is finally recovering from the Luckin Coffee scandal, some worry that like food delivery and online grocery, the coffee business will be another race down to the bottom. Rents are already soaring. Smaller and younger coffee houses with money from VC are taking up all the good storefronts.
The mood is upbeat. Awash in cash, every chain dreams of becoming the next Starbucks.
Many of these chains started as independent shops, with single-origin beans, small-batch roasters, and baristas dreaming of connecting people with good coffee. Double Win was one of them. The money was not crazy, but good enough to sustain a slow, organic growth. An independent coffee shop in Shanghai breaks even at about 150 cups a day. A 120-square-foot Double Win cafe sold at least 200.
Its founder ZONG Yao said he had turned down many offers from VCs since he opened the coffeehouse in 2015. "The plan was to open a new branch with the money we earned from the previous one," said Zong. "But others are racing to embrace investment, if we keep doing it our own pace, it would be too little and too late."
Investors want coffee chains to secure premium real estate because if they don't, their competitors will. Money is not a problem. In fact, venture capital firms are begging coffee chains to accept their money. "Everyone was fighting to give us money," said HU Yifei, GM at the S.Engine, which has just closed its third round of funding.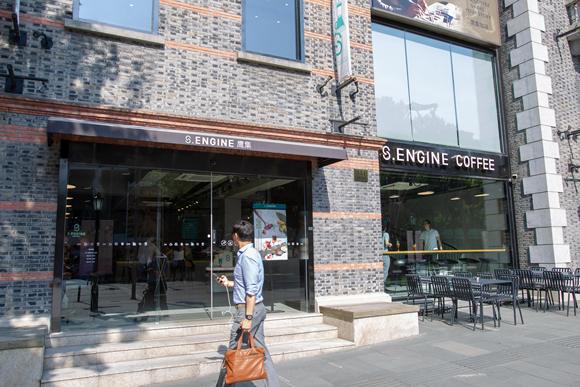 But investors are selective, or at least they claim to be. "We look at products and prices. We look at the performance of individual stores," said WANG Ran, founder of CEC Capital and the financial consultant of M Stand, adding that store performance is not only measured by sales per square foot and profit margins but also whether there is a selling point that speaks to its customers and retains them.
Seesaw has dessert-style espresso drinks popular among non-coffee drinkers. Double Win's sales only took off when it pivoted from specialty coffee to creative drinks, a best-seller being a tea-coffee hybrid with a hint of ginger and lemongrass.
But the most sought-after coffee brands are the ones with the potential to scale up. What makes the first store successful should be easily replicated in the 100th, 500th, or 2,000th store.
Often, the ability to scale up comes down to real estate strategy. Startup coffee chains have to be creative with small storefronts. Manner, for example, leases only kiosk-sized spaces in high traffic areas. There is no seating, but customers can get decent coffee at a price lower than Starbucks. Some S.Engine stores serve as wine bars at night.
Let Starbucks do the heavy lifting
Many investors speak of the supply chain as a unique strength of Chinese coffee chains. China has the best supply chain in the world. Coffee brands can ensure quality control even during expansion. In terms of store management, digital tools are widely used, so operations are very efficient. It was the now-disgraced Luckin Coffee that pioneered digitized operations. Its stores function smoothly even as money was flying out of the windows in other parts of the business.
Seesaw has benefited from the digitized supply chain. The company invested part of its hundred-million-yuan series A plus round to streamline procurement and inventory management to shorten the time from inventory purchase to delivery from 28 days to seven.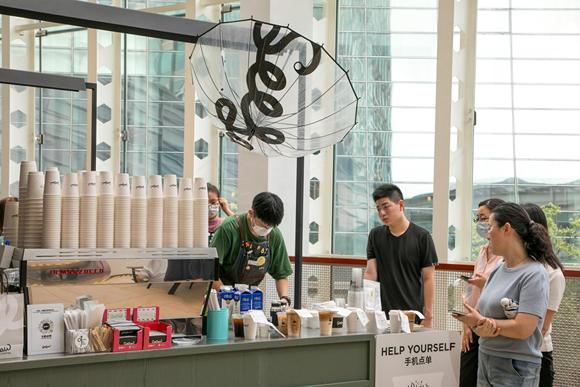 Quicker turnover demands fast supply at the best price, across the board not only coffee beans. When coconut latte became a hit, plentiful supplies of coconut milk were key to success.
Almost all rising coffee chains are trying to carve out a niche in supply chain management. Manner's founder HAN Yulong was a barista himself. He used to roast his own beans to lower costs. The company has recently acquired a roaster. S. Engine also runs its own roasting and brewing facilities. "We didn't want to have any bottlenecks with suppliers. So from very early on, we never outsourced these to other producers," Hu said.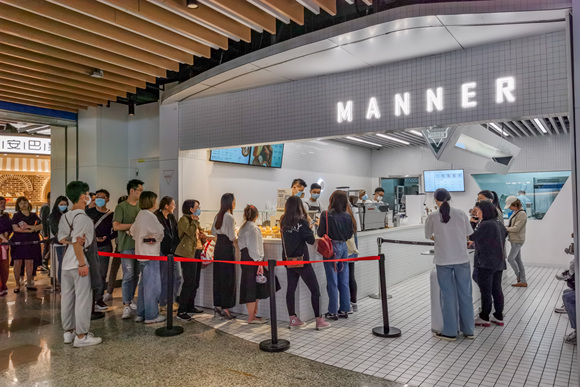 Most of these startups have fewer than a hundred stores but multi-billion-yuan valuations. Most investors are sure to be burned. Hopes lie in lower-tier cities. Starbucks has been opening expanding in smaller cities, so newly converted coffee lovers will surely love to try domestic brands.
It helps that local real estate developers are welcoming. The draw of trendy domestic chains is irresistible to developers around the country. A midrange mall will have at least two domestic coffee chains in addition to a Starbucks. Some malls prefer domestic brands that are "more interesting" than Starbucks.
Compared to their early days as independent shops, coffee chains today are more like big corporations with a portfolio of beverage products, merchandise, and even events. All these boost brand recognition, create demand, and "help the supply chain and everything else to scale up," as Wang said.
A question of taste
Frictions arise, unsurprisingly, when the previously coffee-obsessed baristas shift their focus to scaling up. Capital Today, an early investor of Manner has already sold its shares and withdrawn its management team, reportedly due to "disagreements with the founders."
S.Engine is undeterred. "We have a great supply chain and great marketing resources," Hu said.
His company's investment from Bilibili, a video streaming platform, not only provides it with much-needed funding but also will take its marketing to the next level. "With capital and other resources, we are ready to speed up everything even further."