By TANG Jun
When torrential rain halted traffic in a Zhengzhou highway tunnel last week, hundreds of drivers, at first merely frustrated, quickly abandoned their vehicles and fled. Six died in the tunnel.
Witnesses told Jiemian News that the standstill was caused by drivers at the front who refused to go through the flood, despite pleas from pedestrians and other drivers. Others tried to turn back, obviously a problematic feat in a road tunnel. As the petty squabble continued, water poured into the tunnel, all but filling it up in a few minutes.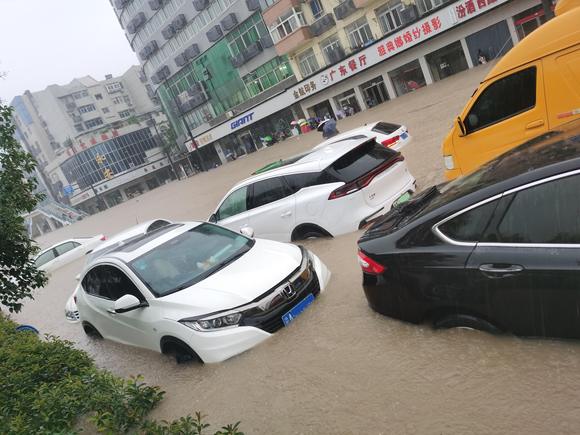 Unmovable objects
When SONG Haichao drove into Jingguang Tunnel at around 3:30pm, traffic was moving smoothly, but three cars in front of him were stopped at the southern exit, blocking all three lanes. "There was no traffic in front of them," he said. Nor was there any flooding."
There was, however, some water about 100 meters ahead, but cars could still pass. Song yelled at the three drivers, but they refused to move.
LI Xiaowei was right behind Song. She had been on her phone, and the call log showed it was 3:42pm when she came to a stop. She thought it was just normal traffic, but nothing moved for a while. "I was wondering why. There was no water on the road in front of us," she said.
Cars were still entering the other end of the tunnel. A 100-meter stretch leading to the southern exit was packed in 20 minutes, and the tunnel was closed at 4pm. At that time, there was still no flooding in the tunnel.
People got out of their cars and remonstrated with the three drivers who refused to move. Song called the police. The line was busy but a traffic officer eventually returned the call. He was coordinating traffic elsewhere and was, literally, swamped by floodwater. If possible, drive on the shoulder, the officer said, and leave the car if you have to. Song hung up in despair and called his insurance company.
By 5pm, wheels were almost all underwater. Angry drivers kept coming up to the front, some arguing with those who were not moving, some trying to help others turn back, which was a team effort. The front of the line had just loosened up when it became deadlocked again, this time even more hopeless than before. "No one made room for anyone. In the end, I was completely stuck," Song said. The water was rising quickly, so he abandoned his car.
Floating and sinking
Traffic on a road parallel to the tunnel was stopped around 3pm. Water was at least half a meter deep by 4pm. Li Xiaowei, who was standing on the road, saw the flood rising. "I said to my friend that if the flood overflowed from the road, the tunnel would fill with water," she said.
Stationary drivers in the tunnel were oblivious to the chaos at the southern exit. Waiting for the traffic to clear, a flash flood would soon leave little time to flee.
By 5:40pm, the situation had deteriorated badly. The tunnel was filled to the ceiling. Rescuers arrived but the tunnel was completely inundated by then.
The tunnel is over 1.8 kilometers long. Taxi driver WANG Wenxue was stuck near the southern exit for an hour and a half. Just before 5pm he saw many drivers abandoning their cars, but he had just spent some 100,000 yuan (US$15,360) on his car a few weeks ago and didn't want to give up so easily. So, he stayed put and called his wife, who was terrified. Soon, he told his wife that he felt as if that car was floating. "And then my wife told me to leave the car as soon as possible," he said.
He can't recall how he crawled up on top of his car. "I could feel the car started to float when I tried to get out from the window," he said. "And soon it was sinking down again."
Not long after he got out, his car sank into the water and Wang had to jump on top of another car. "I think I was calm. I stood firmly on the car roof," he told Jiemian News. "I didn't call for help at first because others were in more need than I."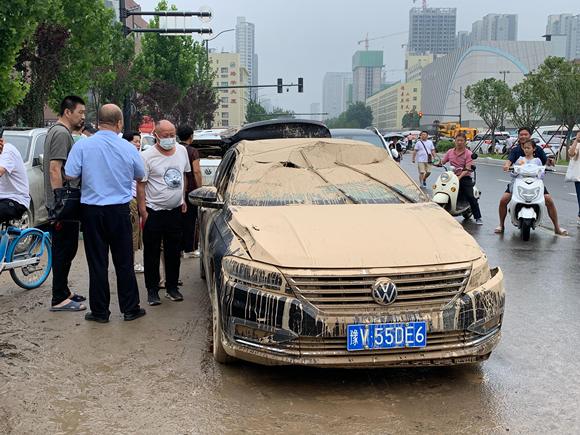 Dive straight in!
Wang saw people swimming into the tunnel to rescue others. A young man XU Shuai, along with security guard YANG Longwei, rescued three people that afternoon, Wang the last of them. "No one knew how to swim, and the first two were struggling so hard that they almost dragged me down," Xu said.
Xu and Yang were outside the tunnel when they saw cars floating and heard people calling for help. "A huge crowd was watching from the road. When some people jumped into the water to help, I didn't think about it too much," said Yang.
After being rescued, Wang borrowed a phone and called his wife. It was 6:25pm. He was the last to get out alive from the southern exit.