By GE Zhenwei
In late June, Nansha Port refuse to handle any more exports to provide space to deal with explosive orders from nearby Yantian Port. A coronavirus outbreak in Shenzhen's Yantian Port had stopped all work there a month previously.
In 2004, Phase 1 of Nansha Port opened on Longxue Island in the south of Guangzhou. At the center of the Pearl River Delta, it is the only natural deep-water port in Guangzhou and is the only way to the sea for the Guangzhou-Foshan Economic Circle and the cities on the west side of the delta.
Lines of action
The delta is dotted with ports, with Hong Kong and Shenzhen Yantian, historically the most prominent. In 2016, Nansha overtook Yantian in terms of container throughput and has maintained its lead ever since.
Guangzhou, being the most important port of south China throughout centuries, lagged behind, said SONG Xiaoming, vice president of Guangzhou Port Group.
In the early 1980s, the delta was completely industrialized, and exports flourished. Most goods in southern China went through Guangzhou or Hong Kong, but as volumes increased, the shortcomings of Guangzhou as a port gradually emerged. With a depth of only 9 meters, Guangzhou could not handle large container ships. The port fell from favor and acted as a feeder port for Hong Kong. With better natural resources, Yantian developed rapidly.
In 1997, Humen Bridge was opened to traffic, but within four years container ships carrying more than 100,000 tons were unable to pass under. Huangpu, Panyu, Wuhe, Xinsha and Xintang ports were all reduced to inland river ports. Guangzhou had to advance 60 kilometers south and build a new terminal in Nansha.
Nansha is on 160 shipping lines,128 foreign – mostly serving Asia and Africa - and 32 domestic ones. In June, the first fully automated terminal was put through its paces. In November this year, the Nansha port railway will open and the Greater Bay Area sea-rail-road transport system will be fully connected. This will greatly reduce logistics costs, and provide a stable channel for enterprises in southern China.
Over the years, Nansha has focused on information technology to improve terminal efficiency and reduce shipping costs. Smart customs procedures have reduced clearance time by more than 50 percent.
As a comparatively new port area – Guangzhou and Hong Kong have been operating as ports for hundreds of years – Nansha has a long way to go in terms of support facilities such as trailers, shipping agents, and freight forwarders. Cruise lines such as Hapag-Lloyd, Maersk and Mediterranean have switched to Nansha, considered a better coronavirus risk than Yantian.
Since the pandemic, liner companies have become strongly averse to putting all their eggs in the same basket and have adjusted their lines evenly across ports. For Nansha, this has meant expanding to take on more lines.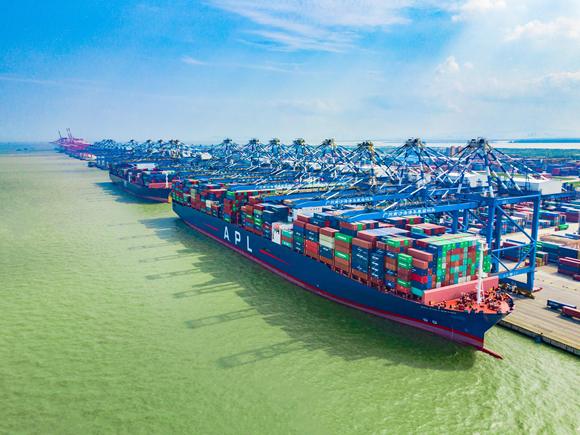 Competition breeds cooperation
Bonded fuel supply is one of the keys to any international shipping hub. It is common practice to provide duty-free oil for ships on international voyages. Fuel supply is vital to the number of containers to be loaded and unloaded. Lines often switch ports in search of better prices or more reliable supplies.
In addition, Nansha Port, as an important staging post for Guangzhou to sprint into the international market, is in short of talent in international trade and modern shipping services compared with free trade ports Hong Kong and Singapore.
The Pearl River Delta generates countless containers of home appliances, furniture, clothes and electronics every day. The partial shutdown of Yantian Port to global shipping has been as much of an obstacle to trade as the closure of the Suez Canal. A former Maersk employee told Jiemian News the docking time of each stop of a freighter affects the entire chain, hugely damaging a global port with the status of Yantian.
The rise and fall of ports, not least the rise of China's ports, is dependent on the state of the world economy. The growth of China's economy and manufacturing industry has driven the success of container terminals.
Today, China has formed five modern port clusters on the Bohai Sea, Yangtze Delta, Southeast Coast, Pearl River Delta, and Southwest Coast. Among them are eight of the world's ten biggest, including Ningbo, Qingdao and Tianjin.
With the rise of Shenzhen and Guangzhou, Hong Kong Port is gradually losing its competitiveness. Hong Kong's loading and unloading costs, labor costs and land costs are higher than those in the mainland. With faster clearance, international traders, very focused on costs, are increasingly choosing mainland harbors.
However, competition is gradually reinventing itself as cooperation. A division of work based on each port's respective advantages is emerging. In 2019, the "Outline Development Plan for the Guangdong-Hong Kong-Macao Greater Bay Area" was unveiled, promising greater international competitiveness for the port cluster in the Pearl River Delta.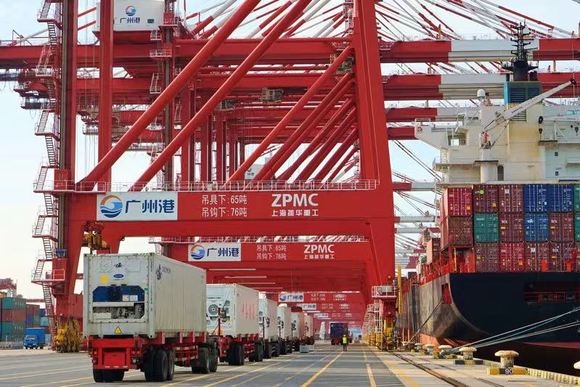 Fragrant, flourishing harbor
While protecting Hong Kong's status as an international maritime center, the plan increases the capacity of Guangzhou and Shenzhen. A better service infrastructure will form a mutually beneficial system that shares Hong Kong's shipping, logistics and ancillary advantages, taking international competitiveness to a new, and more efficient, level.
Some believe that the development plan will even out container volumes among Hong Kong ports and Guangdong ports, through further cooperation, and each port doing what it does best. It is now down to Hong Kong to take full advantage of its comfortable environment and enviable status in terms of shipping finance and laws, but not waste time simply comparing throughput with Guangdong ports.