By PENG Xin
China's regulators said on July 10 that it would block Tencent's plan to merge the leading video game streaming platforms Huya and Douyu, both backed by tech giant Tencent who launched the merger in the first place, citing antitrust concerns. The merger, if completed, would strengthen Tencent's market dominance, suppress competition, harm consumer interest and impede industry growth, a statement said. Tencent had failed to address these concerns in its proposal to mitigate market concentration and its consequences.
Tencent said that it would abide by the decision, comply with regulations and operate lawfully and responsibly. Huya and Douyu's statements followed along soon.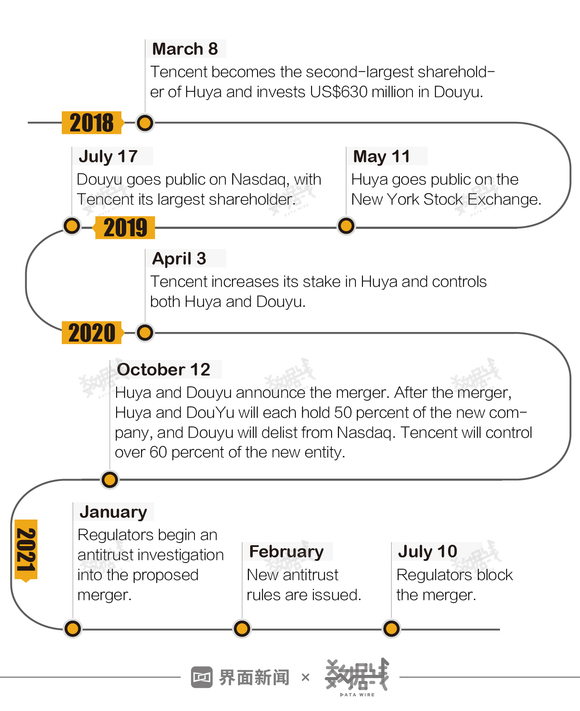 Past their prime
Together, Huya and Douyu, both listed in the US, control around 70 percent of China's game streaming market. Tencent, being the biggest online games platform in China that controls about 40 percent of the market, has major stakes in both. The proposed merger was announced in October last year. Huya would exchange its own shares at an agreed ratio for shares in Douyu (0.73 Huya for 1 Douyu). Tencent would own over 60 percent of the new entity. The new company would have made "more efficient" use of shared resources, according to Douyu CEO CHEN Shaojie.
Huya and Douyu shares have lost a lot since the merger was announced, with Huya down by 30 percent and Douyu 60 percent.
For Tencent, already a major game publisher and distributor, the merger would be an important step to streamline its stakes in the fiercely competitive consumer-end of the industry. But the regulatory blockage had always been a concern, and that Tencent had been working on alternative plans.
The competition will escalate, both between the two old rivals and with other rising players. There is already a bidding war ongoing for talent and exclusive content. Huya this year paid 2 billion yuan (US$310 million) for the exclusive right to broadcast League of Legends Pro League (LPL) events in China for five years. In 2019, the streaming site Bilibili spent 800 million yuan on three years of media rights for the League of Legends World Championship. Short video platforms Douyin and Kuaishou are also ramping up investment in gaming.
Angling for the big fish
This is one of the largest mergers blocked by Chinese regulators on antitrust grounds and the first in the mobile internet sector. It is also the latest in the government's effort to limit the power of big technology companies. Alibaba was fined US$2.8 billion in April for similar violations. Tencent and Didi have also been investigated for anti-competitive investment. The government seems resolute in limiting the power of big tech.
Tencent was notified of the regulators' concerns and had submitted multiple mitigation plans, which failed to address the raised issues. A focal point of the case is market concentration, which measures the extent to which a small number of firms — in this case only one — control a disproportionately large market share. A healthy level of concentration enables companies to efficiently allocate resources and achieve economies of scale, but higher doses may also lead to market failure and hurt the public interest. A key criterion for government intervention, which should be minimal unless necessary, is whether a business action impedes or even precludes competition.
The proposed merger evidently meets this criterion. The now-split 70 percent share of the game streaming market would be combined into one single company. More significantly, the deal would hand Tencent overwhelming market power across the entire gaming industry from publishing to streaming. It is clear from the very beginning that the blockage is not about the rivaling small fries, but the big fish aiming for monopoly.