By WU Rong
Not too far from the city center, low-rise warren of Kangle looks nothing like cosmopolitan Guangzhou. It is so dense that one can jump from balcony to balcony. The narrow alleys are packed with owners, agents and workers who all making their living from Kangle's garment industry.
Every spring, when migrant workers look for new jobs, the district becomes a battleground. Stories abound of factory owners paying white-collar salaries but still unable to find workers. Now Kangle is scheduled for demolition. The government plans to spend 35 billion yuan (US$5.5 billion) to rebuild the area, home to over ten thousand workshops and factories that employ over 300,000 people.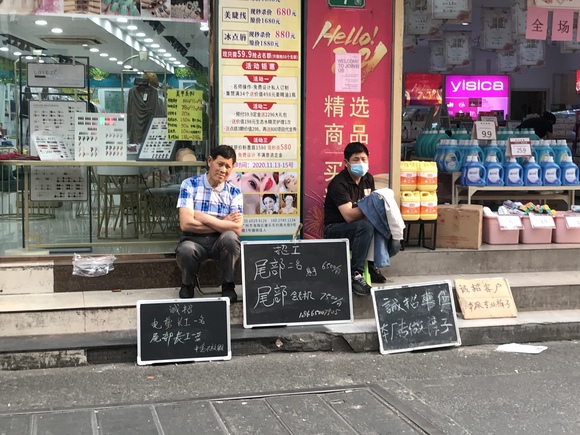 Moving to Easy St.
Textile manufacturing has changed since the factories opened here in the 90s, but more than half of low-end women's clothes in China are still made here. But the small, low-end are out of place in today's market and set to vanish.
The Sun Yat-sen University Market, is one of the textile markets in China. In the 90s, migrant workers opened the first factories in Kangle next to the market, taking advantage of cheap land and loose regulations. An intricate network of factories and workshops sprung up, often specializing in even the most trivial steps in garment making.
A typical garment factory, or workshop is about the size of an ordinary apartment in a densely packed building with up to thirty workers. Some make entire clothes, but most specialize in one or two intermediate steps of garment making, such as sewing on zippers or embroidery. In busy seasons, machines hum all night, moving half-finished batches from one factory to another. Clothes made here are low-cost and low-end. Some end up overseas in underdeveloped countries.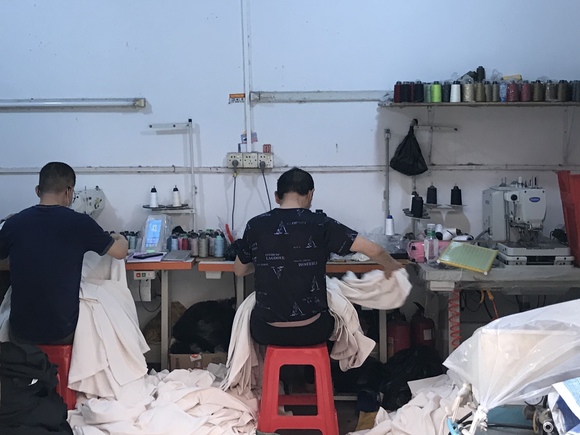 There is little barrier to entry, thus margins are thin. Any little breathing space has been squeezed by soaring rents and unstable orders. The existential threat, however, is a shortage of workers. It takes up to three years to train a skilled worker, so most workshops go to great lengths to retain them. Their contracts are not affected by high and low season, and room and board are offered. Skilled workers are hard to come by, even at attractive salaries.
Greater economic forces are at play. The rise of inland cities, many trying to build their own garment sectors, along with cost of living in coastal cities, has dampened the appeal of factory jobs there. Young workers have more opportunities outside manufacturing, notorious for its long hours. Few of the unskilled seasonal workers in Kangle are millennials or younger.
Manufacturing in general has been losing its labor force. Last year, of 580,000 new drivers signed up with a food delivery app in a two-months period, 40 percent were previously factory workers. Workers would rather make less a month delivering food than through working in a factory.
A typical workshop in Kangle makes around 30,000 yuan a month, but business is seasonal. The pandemic has been brutal: more than half of the factories didn't make money. "For sale" notices are almost common as hiring ads.
New fashions
To some extent, the struggles of the Kangle's garment industry epitomizes the plight of low-end, labor-intensive manufacturing in big cities. Many clusters started years ago as unplanned settlements grew in a regulatory vacuum. They are incompatible to the functions and goals of modern cities. They generate pollution, cause congestions and even endanger surrounding neighborhoods.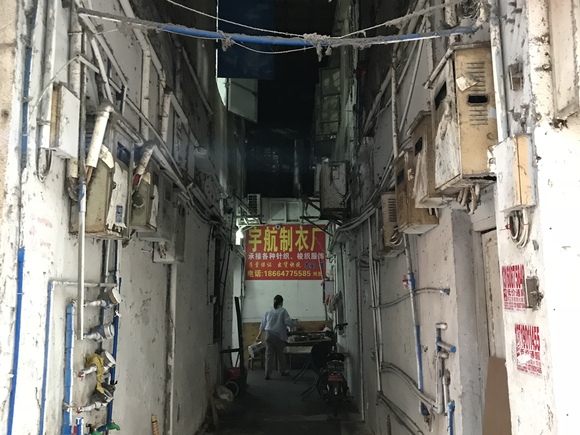 The redevelopment of Kangle was proposed in 2015. According to an early blueprint, the government plans yet another technology hub there, close to local colleges. Some workshop owners plan to restart their businesses inland. Hubei, for example, offers a range of incentives, and 30,000 garment workers have relocated from Guangdong to a small city called Qianjiang since 2018.
Kangle is well connected to the rest of the city. Guangzhou can create better jobs and opportunities by replacing already low-end manufacturers with high-value-added sectors such as technology and finance. The role of government in redeveloping urban areas is to balance the interest of stakeholders, whose immediate interests may not align.
Rather than dictating who is to move where, a friendly and efficient environment encourages upgrades and innovate. Manufacturing will not disappear, but businesses that fail to adapt will eventually be replaced by those who do.