By ZHENG Cuiying
December is usually a time of quiet hibernation in Letong, a historical town in Sichuan's Litang County, but this year, unseasonal backpackers and selfie addicts are prowling the cobbled streets.
It's all down to the unexpected fame of Tenzin, or Dingzhen in Chinese, a 20-year-old Tibetan herdsman whose ruggedly handsome look and innocent smile captured the nation's heart. His rise to fame was without a doubt, one of the top 10 tourism events of 2020 in China.
Staff at local cafes and hostels are constantly asked the same questions: Do you know where Tenzin is? Where can I find Tenzin? There are Tenzin fans, often in Tibetan costume, live-broadcasting on every corner. Tourists have been known to hunt him for days.
An ordinary young man
"This has been a gloomy year for the whole world. People are tired of masks. Everyone wants to see some smiles," said HU Bo, of the Central Academy of Fine Arts who made the video of Tenzin that shot the young man and his small town to national fame.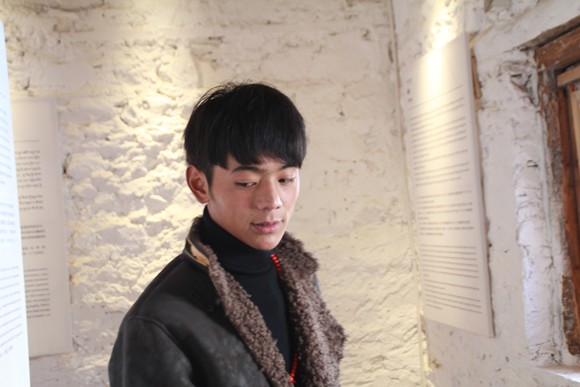 On November 11, Hu's video went viral on Chinese social media. Just when rumors about Tenzin was going to appear in reality shows or become an influencer selling goods on live sessions, Litang County Culture, Tourism and Sports Investment Development Company signed a contract with Tenzin. "When I watched, I was captivated by Tenzin's charm, rugged style, and good looks," company chairman ZHANG Xi told Jiemian News.
A Tibetan expression says that no two cows have exactly the same horns: roughly "everyone is entitled to their own opinion." Locals in Litang are not in universal agreement on the subject of Tenzin's good looks. A hotel attendant said that when Hu enthusiastically showed her an uncut video of Tenzin, she said, "He's quite ordinary." She remains somewhat mystified as to Tenzin's rise to fame.
Searches for "Litang" on Chinese travel platforms have quadrupled. Bookings for other attractions in Garze Tibetan Autonomous Prefecture where Litang is located have shot up by more than 50 percent, likewise hotel reservations.
At the local EMS pickup, packages sent to Tenzin accounted for one-tenth of the county's total in the past few weeks. Most of them are books. At the museum devoted to local poet Tsangyang Gyatso where Tenzin works, the study room is crammed with books sent by admirers.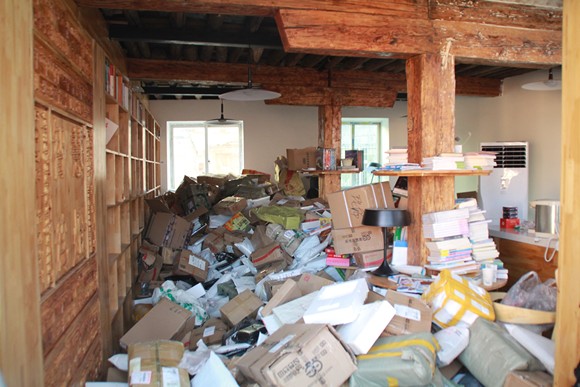 A horse-racing prince?
"Sichuan is my home," says Tenzin in the short video Tenzin's World.
Garze Tibetan Autonomous Prefecture is located in the transitional zone between the Sichuan Basin and the Yunnan-Guizhou Plateau known as Khampa, the second largest Tibetan-inhabited area in China.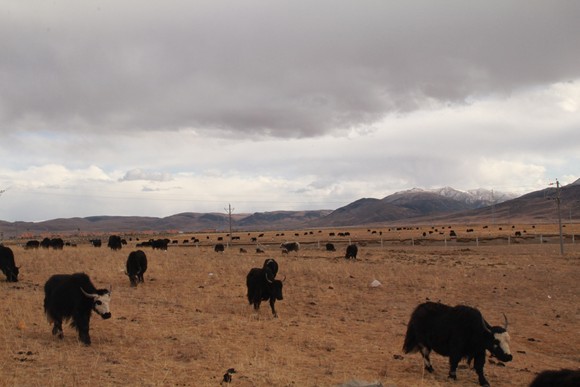 Working on a portraiture project for the academy, Hu arrived in Litang in August. He had come to photograph for the Khampa people, living in the "highest towns in the world" and make series of videos on the "highest smiles in the world." Hu first snapped Tenzin on his way to eat at his uncle's house.
"The village where Tenzin lives is isolated from the outside world. It's unusual to marry people from outside the village, and the faces of the people display traces of a very ancient genetic heritage," said Hu.
In June this year, Litang held a competition to find the most masculine Khampa man. Plenty of video clips of the contest appeared at Douban and Douyin. Tall, powerfully built, and ruggedly handsome Khampa men cracked their whips and performed feats of macho horsemanship, but no one paid much attention. However, thanks to Tenzin's popularity, the discussions on "Khampa Man" on social media has risen higher than ever. A purely mythological account of Tenzin's equestrian prowess – "Tenzin wants to be a horse-racing prince," "Tenzin's father brought him a pony named Pearl," "Tenzin received an award-winning horse called Blue Dragon" – has put Litang's August horse racing festival on the map. Plans are afoot to make Litang a "horse-culture town," the local tourist authority told Jiemian News.
#Tenzin signed by a state-owned enterprise
Litang County is some 4,000 meters above sea level, higher than Lhasa, but its landscape is nothing special. In 2016, the movie I Belong to You was a hit, putting nearby Aden on the map. It takes at least 90 minutes to drive from Aden Airport to Litang, and much longer in winter when the road is icy. A few visitors to Aden drop by Litang when they have time.
The county had already thought about signing up influencers to promote the region. Tenzin's boss, DU Dong, is determined to "protect" Tenzin from the evils of variety shows and cheap fame: "Our company's opinion was that whoever signed Tenzin would be in the limelight. If we didn't sign him, someone else would. A few months ago, we planned to sign up Tenzin's uncle but were delayed by circumstances, and the matter was not urgent."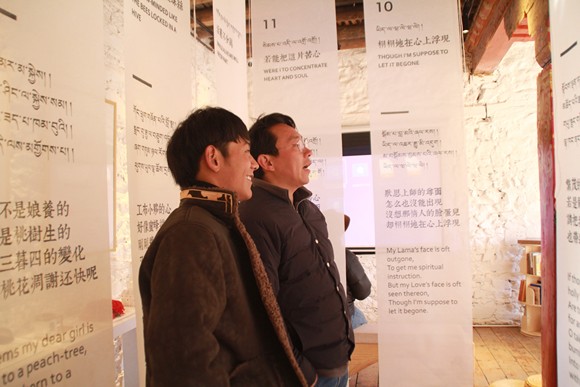 There have been internet celebrities in Garze before – Bathang's Drolkar and Daocheng's Drolma – but there has never been one like Tenzin with tens of millions of followers.
"Tenzin's rise to fame is an opportunity, a symbol, and a surprise," Du said.
Crane Avenue
Litang's 74,000 residents mostly make their living collecting mushrooms and herbs. It was only in February this year that the county was removed from the country's poverty list.
"After 2013, we improved tourism infrastructure and in the past few years, more than 500 million yuan (US$75 million) has been invested," Du said.
The transformation of Litang's tourism industry has been tremendous. A section of national highway passing through the county is known as "Crane Avenue" among the locals, echoing the verses of Tsangyang Gyatso. There are now roughly 4,000 beds for tourists in Litang, about five times the number five years ago.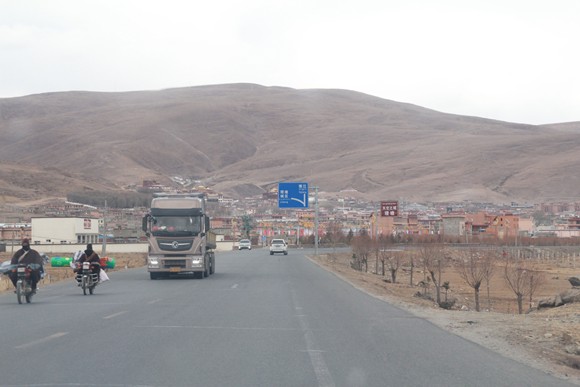 "Litang has always had water supply difficulties. There was no drinking water in winter, let alone water for flushing toilets or taking a bath," Du said. "But a new pipeline system means the water supply is no longer an issue." New hotels have underfloor heating. Some even have a diffused oxygen supply.
According to Litang Tourism Bureau, the number of tourists has increased from 150,000 in 2010 to more than 1 million last year, with revenue much more than ten times what it was back then. InterContinental Hotels Group opened a Holiday Inn in the county this year.
Living encyclopedia
Owing to the limited appeal of the natural landscape and the high altitude, Litang needs to accumulate some long-term appeal aside from a horse race once a year. Various attractions have been built in or around Letong. Qianhu Tibetan village opened in 2018. At the "Mother Tree" project, local single mothers use traditional techniques to weave souvenirs from yak hair.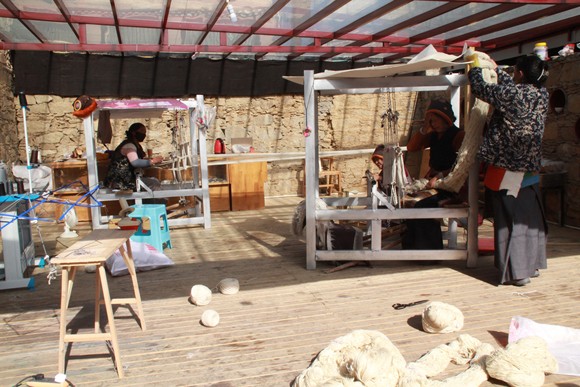 In 2018, Du was writing articles about Tibet when he was invited to create a miniature museum in the county. "A conventional museum requires heavy investment. Small but exquisite theme exhibitions provide deeper insight into the local culture and are more easily funded," he said. A year later, a number of other small museums opened. This year, Ms. Kong Er, manager of the Summer in Litang hostel, plans to open an inn in the courtyard of the Travel Memory Museum.
Zhang believes Litang is on the way to having as many as 50 miniature museums within five years. "We hope to make Litang into a living encyclopedia for Tibetan areas," Zhang said but admits that Litang lacks funds, talent, and impetus.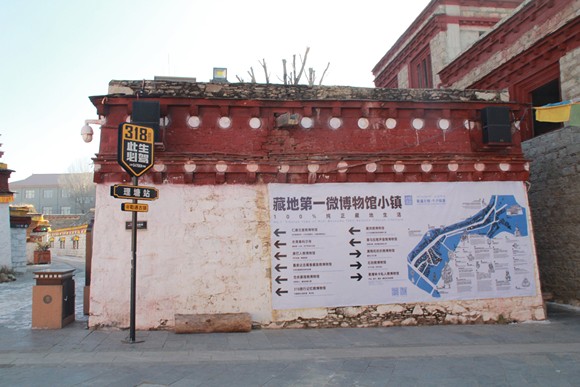 Zhang's company has rented two houses next to the Tsangyang Gyatso Museum to build a "2020 Space" – an extended version of the Tsangyang study room. He envisages it as a place where businesses, NGOs, academics, artists, and media professionals will work together. Anyone can apply for a free workspace. There will be shared meeting rooms, exhibitions, and roadshows for small exhibitions.
"Large tourist groups are on the decline and we need to think about independent travelers. Everything flows through the internet and that is where we must focus," Du said. "Whoever adapts most swiftly will benefit most."
Taking to the air
In front of the Tsangyang Gyatso Museum, tourists finally get the opportunity to take a photo with Tenzin. In his new role as de facto custodian of Litang County's immediate future, the handsome young man whose dazzling, humble smile charmed the nation, recites from one of Tsangyang's poems; an appreciation of a life spent of the snow-covered plateau.
"Pure, white cranes, please lend me your wings, I will never fly far, just to Litang."