By CHEN Dingrui

Translated By GU Yiwei
"Hi. My name is Xi-Men-Zi."
It was September 1987. Rowan Simons, whose surname could be phonetically approximated to Xi-Men-Zi, was an exchange student from University of Leeds. As he loudly spelled out his "Chinese name" to the customs officer at Beijing International Airport, laughter erupted.
Simons was unaware that his new name sounded exactly like that of a notorious poseur in a classic Chinese story, but he soon found out. For thirty-odd years, this tongue-in-cheek introduction has worked wonders as a way to kick off new relationships for the hardcore Manchester Union fan as he navigated Chinese footballing society.
Simons has not wasted his time in China. He worked for CCTV before starting his own media company, and in 2011, opened the China headquarters of Guinness World Records where he remained chairman until 2019, a job Simons describes as a "side hustle."
His first love is football, more specifically, Chinese football, and this despite years watching scandals unfold, legendary humiliating defeats and multiple failed attempts at reform.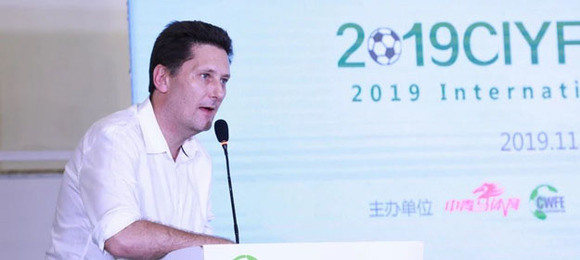 Back in training
China ClubFootball FC was the first amateur football club in the country when Simons founded it in 2001. He has little interest in the cut-throat business of winning or losing in professional leagues, nor the commercial intricacies involved. For years, he has dedicated himself to developing football training and the amateur game in China.
Coronavirus hit ClubFootball and all teenage football training hard, but Simons is optimistic. "The hope is that the club will be able to get back to the pre-pandemic state by the end of summer," he said.
These will be the most difficult six months in ClubFootball's short history. Over the years it has grown from a kick-about in the park into a stable, profitable business. A few months ago, Simons had been looking forward to welcoming his 5,000th student.
About half of his trainees are recruited through partnerships with schools in Beijing. With schools closed, and large sporting events suspended, training has been put on hold, except for eighteen "better-than-nothing" videos online.
"We have really been badly hit. The club hasn't had any kind of income since the end of last winter." Simons said.
It is easy to cut costs, but the problem is not limited to finances. ClubFootball's premier sales point was its squad of certified, experienced coaches from overseas. About half of them are unwilling or unable to return to China, even if classes do restart.
"We have all been very anxiously following the news lately," Simons said. "Several sporting venues tentatively opened but were shut down again in a few days. We can't resume our classes until further notice from the authorities. Nothing we can do, really."
On June 5, things took an apparent turn for the better. The government allowed sports and fitness activities to resume, and ClubFootball was quick to the ball. Students were sent a training guide, meticulously listing hygiene practices and social distancing rules for the new season, including goal celebration protocols. Coaches were tested for the virus, and all results came back negative. On June 13, ClubFootball opened its doors again.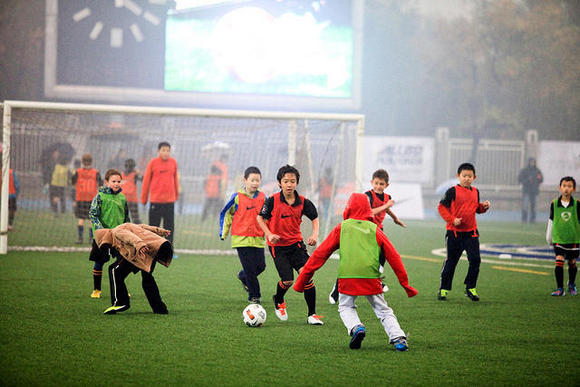 Evolve or perish
To breathe life back into his business, Simons is hosting an event with Nike, a sponsor of ClubFootball for eight years. Simon came to Nike's attention after the publication of his book Bamboo Goalposts, in 2008. He was in Beijing during the SARS outbreak in 2003, working as a football commentator at Beijing TV while running ClubFootball as a hobby. The club served mostly expats at that time and didn't suffer much financially from the epidemic, because it didn't have many financial interests. When the trouble abated, Simons organized a friendly between ClubFootball and Beijing frontline workers. He has hopes of a return fixture after this crisis, if ClubFootball survives.
But the club is a completely different animal today from it was in 2003. The members are basically teenagers, and only a few are children of expats. Almost all of them are Chinese kids.
As football in China has evolved, and the club along with it, business models and curriculums have gone through several iterations. Classes now have a distinct English language learning component, for example. And since Chinese parents who can afford it now aspire to send their children to international schools, the club has an athletes' fast track program with partner schools.
"Making money from Chinese football is really, really difficult," said Simons, stating what everyone involved in the lower echelons of the game already knows.
Even for a reasonably well-known and influential organization like ClubFootball, it is always a struggle, with equipment and playing fields harder to come by than you might think. Regardless of public opinion or government policy, the business environment is just not there. In the UK, sponsors, the Premier League, the Football Association and the government all chip in to give some support to even the smallest amateur club. "I have been pretty much all on my own the whole time here in China," said Simons, who doesn't expect that to change much any time soon.
Despite the financial strain, ClubFootball hasn't raised its prices. Each session still costs from 160 yuan (US$22) to 230 yuan.
Presidential and parental support
"We remained in touch with the parents throughout the lockdown, and thankfully they have been understanding. We also charge by season, so haven't been bleeding cash refunding prepaid annual fees.
"The new generation of Chinese parents has realized that football, as a team sport, can do wonders to their children's personality and growth," Simons told Jiemian News.
"To save and revive Chinese football, the key does not lie in a money drain from giant corporations, or media bombardment, or government policy mandates. Without parents' commitment, it will be all in vain, no matter how much money is spent."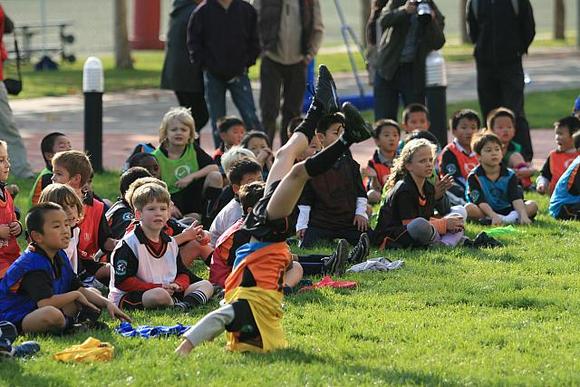 The future may be more promising than it looks from the current gloomy standpoint. For now, the priority is to survive. On the horizon, however, is consumer demand that will soon return to its previous healthy expansion and ClubFootball is as well-positioned as anyone to grow with the market. Plans are afoot to expand beyond Beijing and there are obvious opportunities as a talent incubator for professional clubs.
Investors have been enthusiastic. The government has plans to make the nation proud of Chinese football, money should flow in, though not always in ways that are best for the game. Simons is plagued by "investors."
"At first, I was really shocked. They didn't necessarily know football, but just zealously wanted to get in because they had seen a lot of action here. Many had unrealistic plans for ClubFootball and the industry," he told Jeimian News. "I've been in this for over twenty years. I won't lose my mind simply because of the money."
The money which is arriving is investment capital, seeking the best possible return. Several institutional investors walked away from ClubFootball because its modest financial returns cannot be compared to professional football.
Simons is perplexed. Clubs fight to pay astronomical salaries to players before they even prove their worth. But not one of the big clubs contributes anything to grassroots football, begging the question of where they think their next generation of players will come from.
So far ClubFootball has kept onside, supported by receipts from previous years.
"Thankfully we had a good run last year. If it were not for the savings, I'm afraid we wouldn't be able to make it."
Summer is a slow season. Kids are out of school and there is little culture of street football in China. But in the absence of a second wave of infections that could be fatal to ClubFootball, Simons hopes to be back at full fitness when the season starts again in September.