By LU YIbei
Love them or hate them, street food stalls have played a big part in the growth of some of our tastiest urban legends.
The "stall economy" was one of the more unusual topics at this year's Two Sessions. There has been something of a renaissance for these small traders, once clamped down on hard by chengguan, "urban management" officers. Having seen the silver lining of a potential growth point, many cities are working to bring sellers back to the nocturnal streets, but Shenzhen is not among them yet.
Despite Shenzhen's uncompromising attitude, the market always finds a way, and plenty of stalls have remerged in remote districts. One sells the perennial favorite of Chinese snack fiends, stinky tofu, a tasty morsel despised by those who believe the traditional Chinese street scene should be modernized and should smell better. Scant regard is paid to long-standing traditions and what the people in the street actually want to eat.
The stinky tofu stall in question has legendary status. It mysteriously appears in different places each night, with as many as 3,000 people hanging on WeChat groups for the owner to disclose his latest location.
A member of one WeChat group told Jiemian News he was in the sixth group, and it has already reached its 500 person limit. "No one knows how many groups he has," the gourmand said portentously.
The tofu is fried twice to make it crispier and seasoned with homemade pickles. One serving costs 20 yuan (US$ 2.80). It's not especially cheap, but urban myths tell of people turning up to get their fix in Ferraris, much to the stall owner's dismay. Any fuss around his stall is bad for business because too much attention brings the chengguan.
On July 3, Jiemian News learned that the stall was going materialize under an overpass. When we arrived, there was already a long line of hungry people, but no stall at the end of it.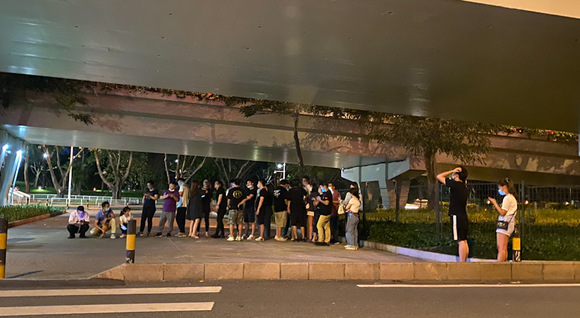 As the crowd waited impatiently, the chengguan showed up. People began muttering to one another. "I heard the stalls were allowed to come back," said one ravenous beancurd fan. "Why are they hanging about?"
But the officers didn't stick around for long. They took some photos of the crowd and left. There would be red faces all round if the stall didn't show up as expected. Or perhaps there was a change of wind as the officers chose to keep one eye shut?
It was almost 11 pm when, out of nowhere, as if by magic, the stall emerged from the darkness, and within 30 minutes all the fragrant tofu had been sold. Many had spent hours waiting, only to leave with nothing but the lingering smell in their noses as they trudged home, empty-stomached.
One customer asked the owner why, since he was so famous now, he didn't open a shop and leave the catch-me-if-you-can days behind.
The owner just shrugged. There is no way he could afford the rent, the very reason why so many of the best food stalls preferred to lead their fly-by-night existences.
There are no losers in the plan to activate the "stall economy." Not only providing employment along with products and services which people clearly would love to see, but the city also becomes more vibrant, and safer, at night, arousing other sleeping sectors of the economy.
But the stall owners can be their own worst enemies. On June 3, a night fair in Dalian was ordered to close when it caused traffic jams, not to mention the mess left behind in the street.
Leading the way, Shanghai has offered support to night markets and street stalls. Haphazard accumulations of stalls will not be tolerated. Operators must get prior approval and operate within designated areas and times.
With a better organization and support, these urban legends could become part of the fabric of communities, enriching lives, driving a new sector of the economy, and keeping a much-loved aspect of traditional Chinese culture alive.