By LIU Ruixin
On January 9, Tmall data showed that the total sales of "People" magazine with XIAO Zhan on the cover reached 12.5 million yuan on Tmall New Year's Festival. Illustrated with the text, "Fan ecology brought print media back to life." The magazine's ultra-high sales speed has attracted a lot of attention.
100,000 copies were sold a mere three seconds after the magazine hit virtual shelves. One minute later, the cumulative sales of the February issue of "People" exceeded 140,000. In 16 minutes, sales exceeded 200,000, with total sales reaching 10 million.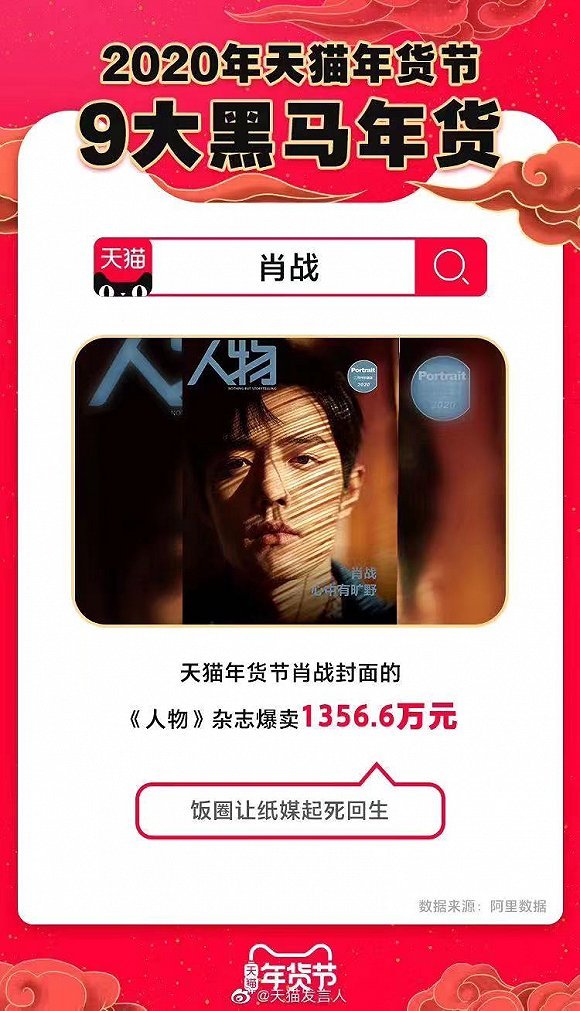 This issue included a seven-hour exclusive interview with Xiao Zhan, a 29-year old actor who starred in the hit drama "The Untamed" and rose to fame in 2019, and a 20,000-word cover story. It also came with a beautifully-customized poster tube, containing two huge, crease-free posters with a signature and a set of four bookmarks with Xiao's photos.
But, the Xiao Zhan buying-spree hasn't stopped yet. The February regular issue of "Bazaar" with Xiao Zhan gracing two covers, shot by celebrated fashion photographer CHEN Man, is also avaialble. Sales data shows that the 30,000 copies of limited-version "Bazzar" with a signed poster sold out in 18 seconds, breaking the sales records of "Bazzar" with an individual star on the cover.
Fans are very satisfied with Xiao Zhan's fashion achievements since his first cover appearance "unlocked" one of the five major fashion magazines.
Similar to academic journals, fans have their own ranking of fashion magazines. The five major magazines, referring to "VOGUE", "ELLE", "COSMO", "Bazaar" and "Marie Claire", along with "GQ" and "Esquire" receive a premium rating in this system. "Bazaar Men", which also contains the word "Bazaar", is a quasi-premium outlet, but "Bazaar Jewelry" is considered second tier. The commonly seen "Le Figaro", "L'OFFICIEL" and "ELLEMAN" also belong to the quasi-premium category.
If a celebrity can successfully take over the five major female magazines, its known as a "Grand Slam" among devotees.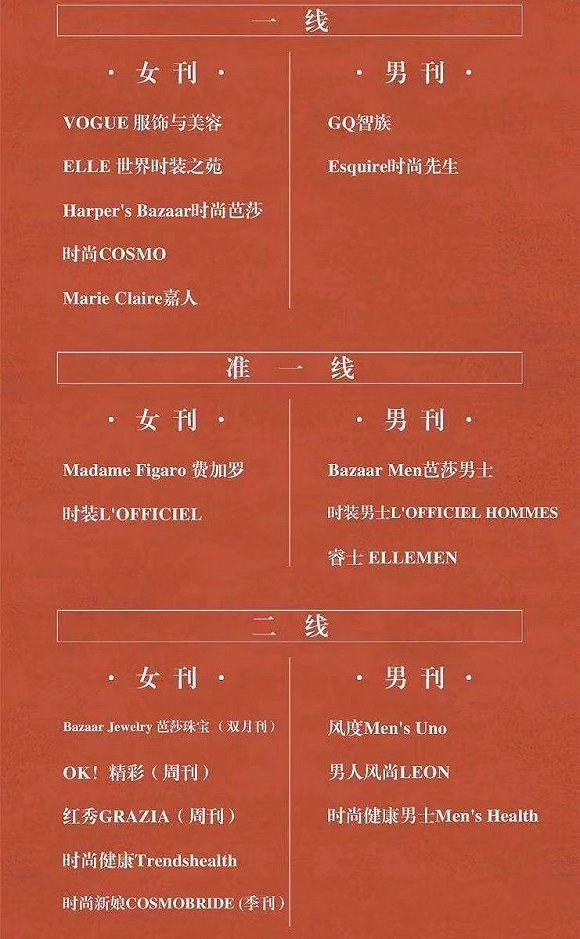 To his fans, Xiao Zhan received the highest level of honor. He is the only star featured and on two covers at once. In comparison, all the following represent lower levels of success according to this metric: a single star with a single cover; multiple stars, but one star has two individual cover images; multiples stars, but one star has one individual cover image); and multiple stars on one cover. In addition, invitation of the magazine is considered superior than brand promotion and brand purchase. In terms of the best times, fans count January, the beginning of the year, March, the beginning of the season, the magazine's anniversary, and the Gold September and Silver October are the most important issues to be featured in.
Although "People" is not one of the fashion magazines, it is still a mainstream publication, which made fans of Xiao Zhan most proud. "This is the highest-level People Magazine in China. It is targeted at people with significant influence in China today. Who wouldn't brag about our Zhan?" Mainstream magazines recognized by fans include "Numero Metropolis" and "T Magazine".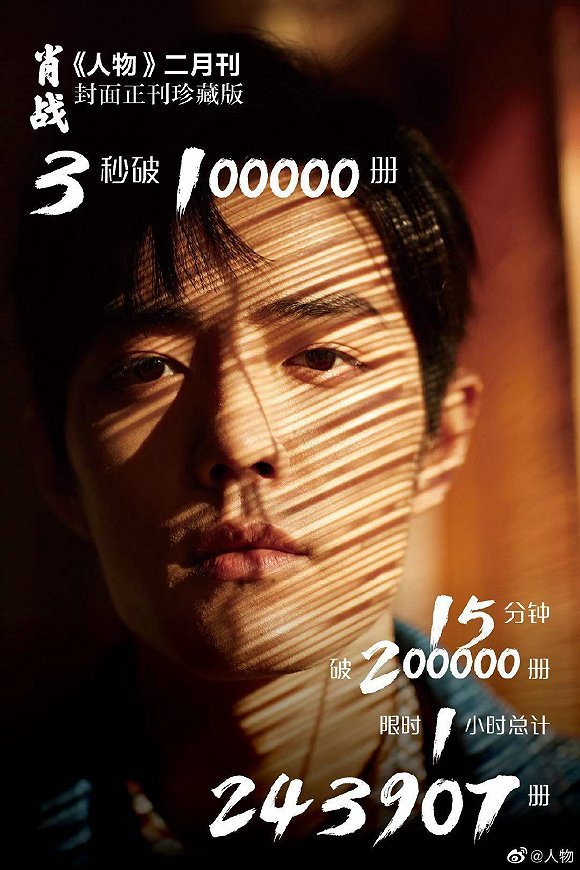 CAI Xukun, a Chinese singer who rose to stardom in 2018 after winning music reality show "Idol Producer", appeared on the cover of the Chinese-version of "T Magazine" in January, 2020. DENG Lun, the "Ashes of Love" star who shot to fame in 2018; YIYANG Qianxi, a member of the long-time favorite boyband TFBOYS; and HU Ge, actor who has become a household name after staring in multiple popular drama series, also joined the print media battle at the opening of the year. Deng appeared on the cover of the January issue of "Esquire" in 2020. Hu Ge, along with other top celebrities including Yiyang Qianxi, were on the cover of "VOGUE" all at the beginning of 2020.
Though many fashion magazines are losing audience, Xiao Zhan's sales performance made people see the strength of the "fan economy" invading print media and the ability to convert celebrity followings into print magazine sales.
For celebrities, photographing for the covers of fashion magazines is more than a set of photos or an interview, it becomes more of a "fashion resource". A good magazine is an embodiment of the commercial value of a celebrity, and it can also intuitively reflect the "purchasing power"of his or her fans. At the same time, it is also an important criterion for measuring celebrity status. Singing and acting are far from enough for a celebrity, he or she must have corresponding fashion expression. Appearing on the covers of the five major magazines is tantamount to receiving a luxury endorsement.
Therefore, many fans will also raise funds or help fans to buy magazines through their fans clubs in order to help the magazines sell out quickly. The official fan club of WANG Yuan, another member of the TFBOYS trio, once organized a bill-sharing offer to help fans buy magazines featuring the star. These kinds of magazines will not be distributed to individuals, but will belong to the fan club for media placement and distribution on supporting activities. However, fans are sensitive to the word "fundraising". Fans of Xiao Zhan have repeatedly emphasized that the high sales of "People" is an individual consumer's choice to pay for a "high-quality, seven-hour personal interview."
But fan logic is the same as magazine logic. Although a well-printed fashion magazine is priced high, it won't cover the cost of photographing, post-processing and printing. The profit model of fashion magazines is not solely based on sales volume, but more on advertising revenue. A sales volume exceeding 10 million yuan (around USD 1.4 million) cannot expand its audience group or profitability. Nevertheless, the appearance of popular celebrities can indeed increase the exposure of magazine brands and activate online and offline activities. For magazines that urgently need to expand their market and increase public awareness, the fans economy is a trilateral win-win option.
Many magazines have developed "electronic versions" after seeing the strength of the fan economy. These publications published online can not only reduce many logistic and time costs, but they can also harvest the same high returns. According to the big data list of electronic magazines published by "Bazaar", in the first half of 2019 alone, 35 issues of "Bazaar" were released, with sales exceeding four million copies. Among them, ZHANG Yunlei's "Hello, I am Cross talker Zhang Yunlei" sold the most in the first half of 2019, with single magazine sales reaching 474,000 copies.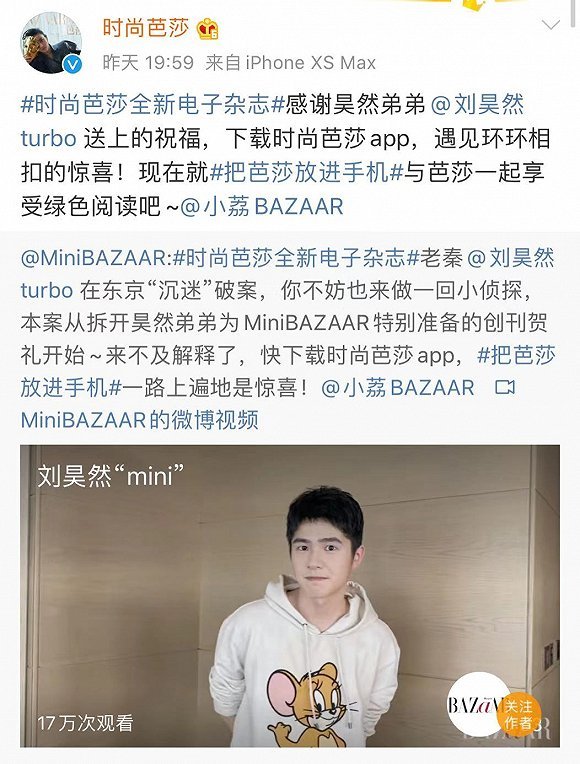 Magazines that don't want to lower their statues have made a compromise to celebrities with huge followings and purchasing power. "GQ" and "People" released video clips before the sales of magazines with Cai Xukun and Xiao Zhan on the covers, in order to stimulate more fans to buy. It is no wonder that many people have questioned whether e-magazines are overly catering to the fan economy and belong to the fan industry rather than the media industry.
After the fan economy takes hold of the print media, the relationship between buyers and sellers became more harmonious, and the traditional relationship between supply and demand was overturned. Overall, capital seeks profit is always the rule. But how to ensure the quality of these "fans-oriented" products and maintain sales data transparency are what the fashion magazines need to think about in the future.
It is conceivable that after the major magazines have made compromises and cooperated with most-followed celebrities, the lower ranking publications will face a more severe winter. Just like Xiao Zhan's fans comment on Jiemian News' Weibo account: "It is not the fans that brought the print media back to life, but rather media which commits itself to quality content like "People" won the market." Although the power of the fans is great, it cannot save print media. Be it with or without the fan-economy, only high-quality content can stand out in the industry competition.