By MA Yue
Longfu Temple has been appearing frequently in hipsters' social media in the past months. Until the recent renewal project, this city block had become an obscure part of Beijing for years.
This is a typical '90s Beijing urban block. Located in Dongsi (East Fourth Zone) of Dongcheng District, Longfu Temple block covers a significant 15.5 hectares, with Qianliang Hutong to the north, West Dongsi Street to the south, East Art Gallery Street to the west, and North Dongsi Street to the east, includes Longfu Tower, Longfu Square and Changhong Cinema, as well as old office buildings built between the 1960s to 1990s and adjacent hutongs.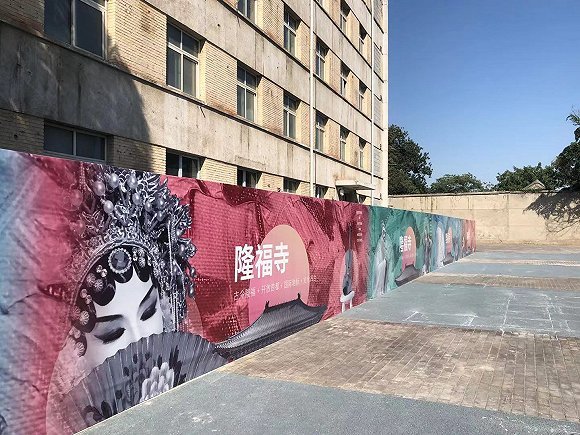 "Many young people may not know Longfu Temple's past status in our Beijing. In early years, it was a commercial district as famous as Wangfujing and Xidan." Li Fusheng, who has lived in nearby Qianliang Hutong for more than 60 years, told Jiemian News.
Since late 1950s, Dongsi People's Market, the predecessor of Longfu's Tower, along with Xidan Shopping Mall, Department Store Tower and Dongfeng Market, were regarded the four major shopping destinations in Beijing. Longfu Tower, completed in 1988, was the first modern department store with central air-conditioning and escalators in Beijing.
Its glory ended abruptly in 1993. After an accidental fire, Longfu Tower went from prosperity to decline. Fumbling through changing positioning of a food court, a clothing market, a digital square and a marketplace of small commodities, Longfu Tower ended in failure. From the cradle of trends in the past, it was reduced to a place where no one wanted to visit.
However, the young generation are coming back here recently.
British artist David Hockney's exhibition "A Bigger Splash" opens in this old hutong of Beijing. Li Fusheng witnessed the crowds of smartly dressed young men and women, art celebrities and foreign tourists flocking to the once-desolate area. They would walk through a construction site surrounded by barricades and scaffolding, to visit galleries, drink coffee, have fine dinner and take selfies.
"Where do you want to go?" Residents nearby raised their hands and pointed north. "To see the exhibition? Go straight ahead."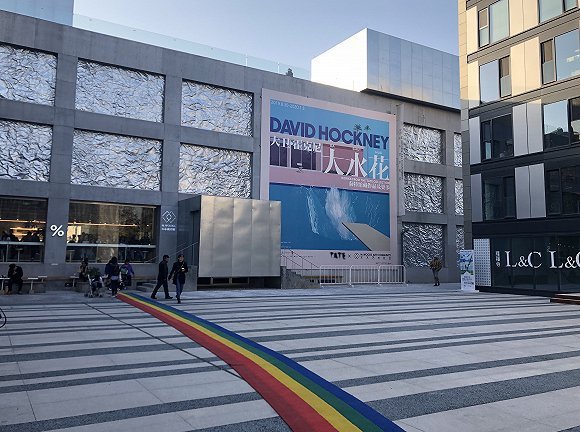 The renovated "Longfu Temple Phase I", with a new commercial complex that combines office buildings, art galleries, cafes, bookstores, co-working spaces, boutique restaurants, and bars, has just become another trendy landmark in the city.
As a leading brand to land in the new Longfu Temple area, M Woods Art Community has spent more than 2 years for business development.
The old dining hall, which originally covered an area of 2,189 square meters, was transformed into the M Woods Art Community by Shuhei Aoyama, a Japanese designer and hutong-culture enthusiast who is good at space transformation. The building, with three stories above ground and one below, looks like a silver box from space. Outside, a long rainbow-coloured carpet leads from the community entrance to the gate of the building. It is a multi-functional space for exhibits, cinemas, sales of art-inspired collections, cafes and creative activities.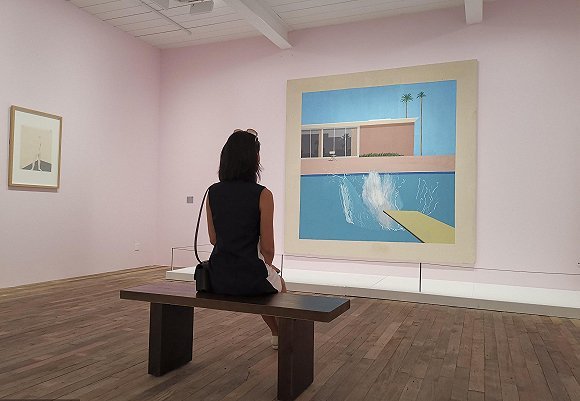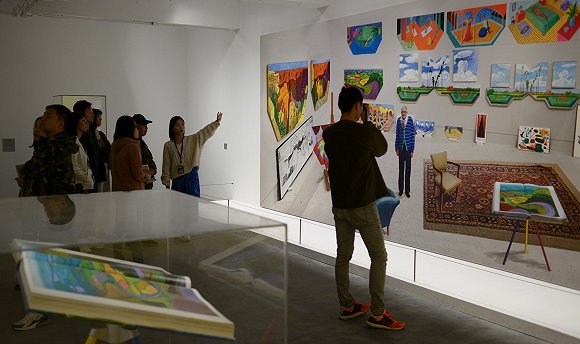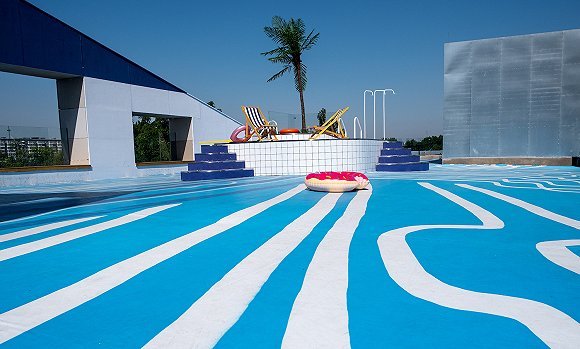 LIN Han considers choosing the Longfu Temple location is a coincidence of historical opportunities.
He founded the M Woods Art Community, together with his wife LEI Wanying. They had been running their business in Beijing's famous 798 Art District for many years and were looking to expand. "In fact, there are not too many mysterious stories," Lin Han told Jiemian News. Never have Longfu Temple's business developers extended an olive branch; instead, Lin reached out to them. One day when passing by Longfu Temple, Lin Han saw an ad with a phone number, so he entered and talked with the representatives.
He chose Longfu Temple because compared with other commercial complexes, it has mysterious legends and history, which can add more cultural connotation and attract topics to the art institution.
"Some things can be built, but some cannot." Lin Han said, "We were probably taking a short cut by choosing a location where the storyline had been formed, and a place that has not fallen out of attention. Longfu Temple, as part of the city of Beijing, is very special."
In fact, the Longfu Temple area, which is nearly 600-year-old, was once a business legend in Beijing.
Built in the third year of Jingtai in the Ming dynasty (1452), Longfu Temple used to be one of the most prosperous place in Beijing and became the busiest place for temple fairs in Qing dynasty. Trading of flowers, birds, fish and insects, porcelain antiques, old calligraphy and paintings, as well as traditional singing and storytelling took place here. According to the "Zhuzhi Poetry of the Capital" written in Qing dynasty , "the selection of goods in east and west temples is so complete that one can spend millions of money in one day. So many noble men come here in their spare time and their clothes are balmy with royal furnace smoke."
Longfu Temple Phase I transformed Longfu Tower and Longfu Temple North Lane. Under the design of architect CUI Kai, Longfu building has taken on a new look and changed from a department store to an office building of cultural and financial enterprises. The North Lane was also transformed into a creative park from a place of warehouses, canteens, power distribution buildings, and office facilities.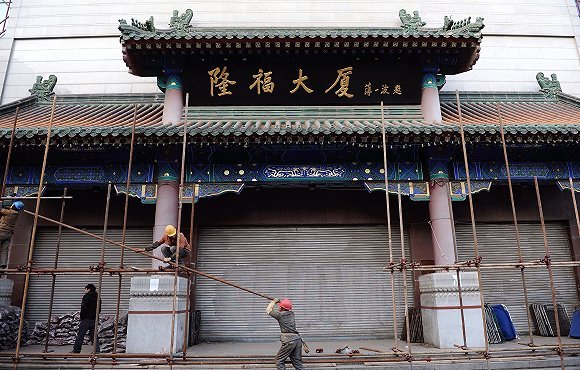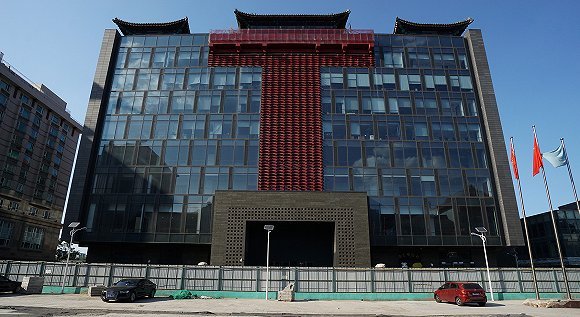 The ancient temple itself of Longfu Temple had been long gone, but on the ninth top floor of Longfu Tower, a piece of ancient architecture was designed as the new cultural center of Longfu.
As for Lin Han, the creation of a new art district at Longfu Temple along the second ring road shows that the city is in a process of urban renewal -- he describes it an expression of idealism.
With the art community at its center, the commercial complex can attract lifestyle brands more easily, and surrounding businesses can benefit from the vibe it creates.
Amy Li is vocal about her gratitude to Lin Han.
Her Vietnamese restaurant, SUSU, is right next to the M Woods Art Community. "I have never been dependent on someone, but being next to M Woods attracts more foot traffic to the restaurant." She told Jiemian News that customers who visit the art gallery will naturally come to SUSU for a meal, which not only brings customers to the restaurant, but also nurtures a cultural interaction effect. It was M Woods that led to her decision to open her fourth SUSU restaurant in Beijing in Longfu Temple.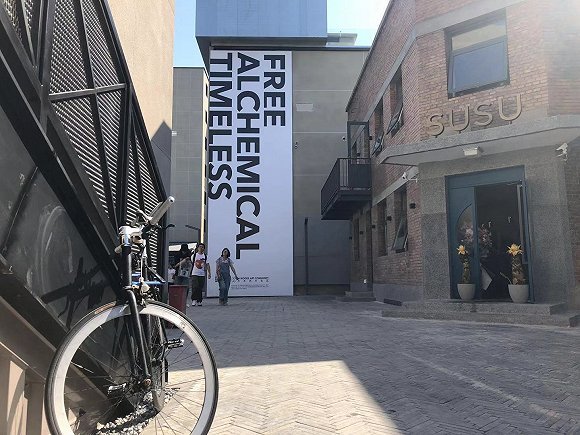 She has experience running a restaurant brand with an artistic flare.
Like most businessmen secluded in hutongs, Amy Li and her hutong-culture-obsessed American husband know how to combine old Beijing with cosmopolitanism to capture the whims of people who are sensitive to artistic and high-end lifestyles -- such as running niche but authentic Southeast Asian cuisine business and heeding the space design of restaurants.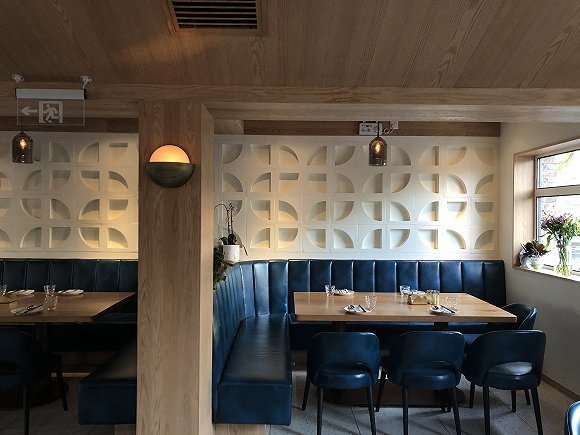 When she was choosing the site for the new restaurant, the building, which originally was an office and built in the 1980s, was her first option. "I am quite moved by the tatter look of it. Having gone through vicissitudes, the old bricks shows the passing of time, completely different from the artificially faded ones." She said.
Therefore, these old red bricks were kept the way they were and the interior space also retained the original spire structure, even the tiny windows stayed. Through a window on the west side, customers can see the hustled scene in the hutong outside.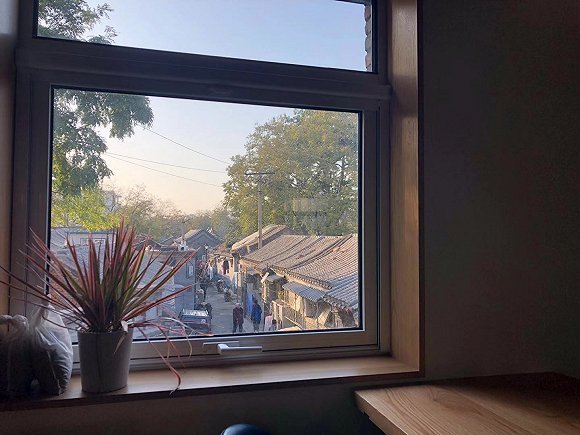 The craft beer bar Jing A was also attracted by the M Woods Art Community.
Alex Acker, an American who speaks fluent Chinese and has lived in China for more than 20 years, and his partner Kris Li were among those who first brought the craft beer culture to Beijing. Their first craft beer bar was in Sanlitun, an area with a rich nightlife culture. Their established popularity among expats quickly helped them attract their first batch of "seed users", and also Chinese consumers who could quickly adopt a new lifestyle.
With years of professional experience in Ogilvy and Apple, Alex Acker knows how to build a brand. He chose down-to-earth, urban elements for his shop and named his beers with catchy titles such as Shirtless, Five Rings, Crushed Cucumbers and Drinking All the Time. He also named his brand "Jing A", which were a character and letter combination used on the first batch of license plates in Beijing.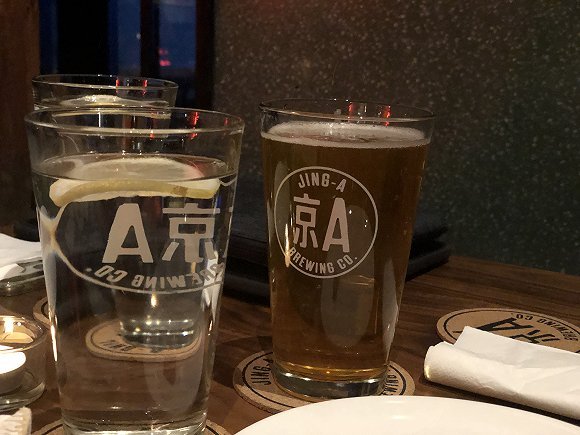 The bar, transformed from an old warehouse, is decorated in a post-industrial style. When the weather is not too cold, doors and windows are kept open to create a feeling of openness. After visiting the gallery, customers can sit down and chat with a glass of beer. "It's like the bustle scene from a traditional temple fair." Alex depicts it, "Hutong is the soul of the city, and we try to bring the nightlife culture here. You know, people want to find something new and interesting. They don't want to only gather in Sanlitun."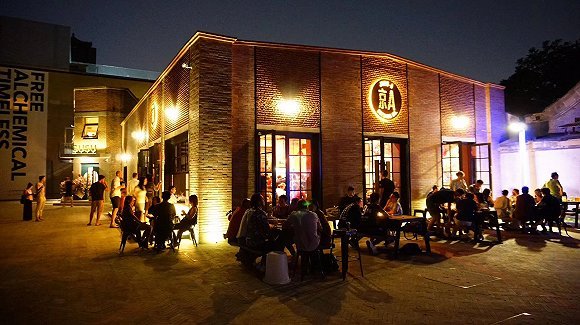 However, in the past two years, the hutong has undergone a reshuffle of its businesses after a massive relocation and renovation. Business here will no longer grow in a vicious manner and will be more regulated. At the same time, commercial business sites in hutongs are quiet popular, resulting in higher operating costs and higher threshold of opening a shop.
This is the advantage of the Longfu Temple project. While retaining the cultural characteristics of Beijing's old urban spaces, it also ensures the property management of formal commercial space, attracting businessmen who have to move out of the hutongs but are not willing to move into large commercial centers.
On the other hand, Longfu Temple is located in the core area of Beijing with convenient transportation – it is only less than 2 kilometers away from the Imperial Palace. It is a rare cutting edge.
According to the data of RET Commercial Real Estate Research Center, after the supply outbreak in 2014, the new commercial real estate supply in Beijing showed a declining trend year by year from 2015 to 2018, and the new supply in 2019 is expected to grow by 2% to 3% year on year. The total available commercial real estate in Beijing will reach 18 million square meters in 2019. Therefore, how to operate and upgrade existing spaces will become a common problem faced by every big commercial project.
This is also what motivated the authorities to "re-create" the old commercial spaces.
In fact, the transformation began seven years ago. In 2012, Beijing State-Owned Assets Management Co., Ltd. together with CPC Dongcheng District Committee and Dongcheng District Government, jointly repositioned and renovated this area, on the premise of preserving the features of this old urban area. According to the official statement, the Longfu Temple Project is defined as "one of the capital's new cultural centers, where traditional culture and modern civilization complement each other and Chinese culture and world civilization harmonize and blend."
Acutually, Longfu Temple has never lacked cultural genes. At the end of the Qing dynasty and the beginning of the Republic of China, Lao She and GUO Moruo, both prominent literary figures of modern China, had come to the old book stalls here. Situated next to the National Art Museum of China, the People's Art Theater and the 24-hour Sanlian bookstore, this area is no stranger to old-school literary enthusiasts -- even if they don't normally come to Longfu Temple on purpose, their nostalgia for it truly exists.
"Longfu Temple is so close to the People's Art Theater, so I will go there to eat mutton kebabs and roasted mutton. The most touching thing about Longfu Temple in recent years is its history." said LIN Zhaohua, a well-known director who had produced the play "Longfu Temple" in 2013.
Therefore, only a dozen of business were selected from more than 500 business considered. "One of the most important criteria is that the business must own a story in itself, and there must be certain culture elements in its brand. Or maybe the owner is a cultured person, and he/she can cultivate the right vibe in the shop. These kinds of shops would a great fit with the positioning of the project," a staff of the project told Jiemian News.
The brands that entered in Longfu Temple tend to be "born with traffic"-- in addition to M Woods Art Community, SUSU, and Jing A, there are also ZHAND Yonghe's Atelier FCJZ, specialty café %Arabica, reading club More, co-working space WeWork, ski brand Burton, etc. Sports brand Lululemon will also carry out offline activities here.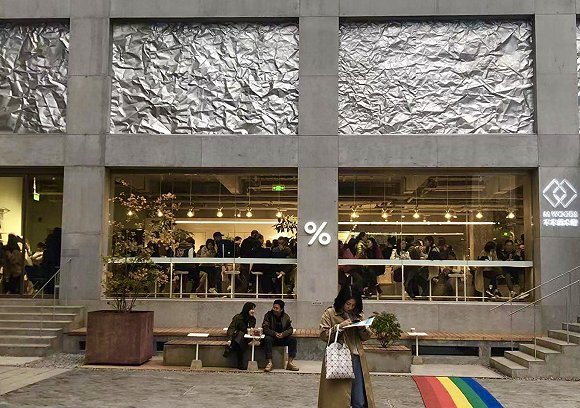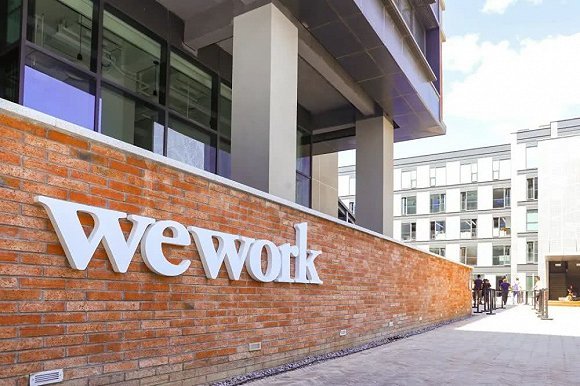 "We have been longing for to operate in a hutong for a long time, but as a matter of fact, it is not easy to find the right place to set up a shop in hutong, especially for a bar. It's the only place in Beijing where we can realize that right now, so to speak." Alex Acker told Jiemian News.
BAI Yiwen, a Beijing native who grew up in a hutong less than 500 meters away, has a similar feeling. He has profound memory and affection for Longfu Temple. He ran a Sichuanese restaurant Pepper Kitchen, with his wife, on North Dongsi Street. After hearing about the Longfu Temple renovation project, they decided to move their restaurant here because they were optimistic about the development opportunities.
"I have such profound memory of this area. When I was a child, my parents would take me to the McDonald's in Longfu Tower, or I would wander around and watch a movie after school," Bai Yiwen recalled. He was looking forward to its revival and regarded it as an opportunity to attract a new clientele. Now, customers of nearby galleries and bookstores eat at his restaurant, as well as the white collar professionals and old neighbors.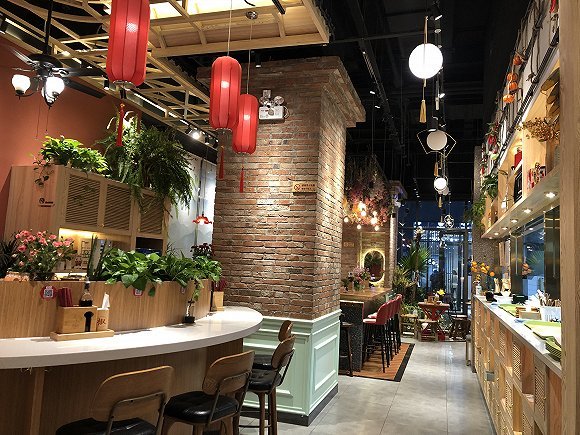 However, in the process of urban renewal, not everyone would gladly accept this elitist consumption upgrade and the crowded and noisy tourist-zone-commercialization as Nanluoguxiang and Qianmen Street. The elitist lifestyle has replaced the marketplace bustle of everyday life cherished by local residents, and what had felt like an authentic taste of Beijing is lost. For local residents, instead of the exquisite coffee and beer from overseas and the art that they could hardly understand, they miss instant-boiled mutton and deep-fried pork intestine that were signature dishes of Longfu Temple.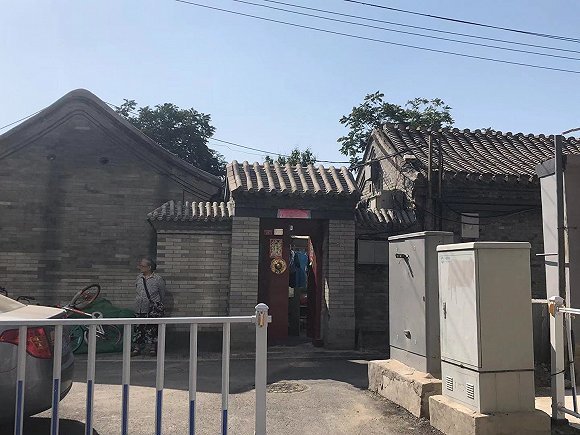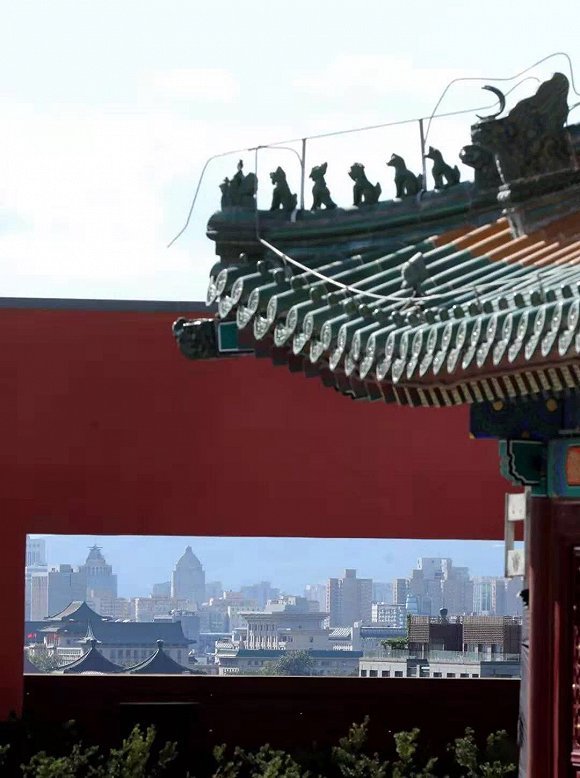 "As for the commercial projects in the old urban areas, the first step is to explore and highlight the local culture. Cultural experience should be designed for both local customers and tourists." ZHOU Leiya, General Manager of RET's strategy consulting department, told Jiemian News, "We should really pay attention to fulfil the upgraded everyday needs of local customer, so that commercial projects can first become a high-frequency living space. Furthermore, it should match that with the desired experience of outside customers, in order to satisfy diverse needs of customers."
How can Longfu Temple avoid becoming a mini version of 798 Art District? That answer is worth exploring.
According to the Phase II and Phase III renovation plan, Changhong Theatre will provide a better innovative experience after the reconstruction; the Palace Museum, British Museum and V&A Museum have been approached for possible collaboration; a series of IP projects will be developed based on Longfu Temple's cultural heritage.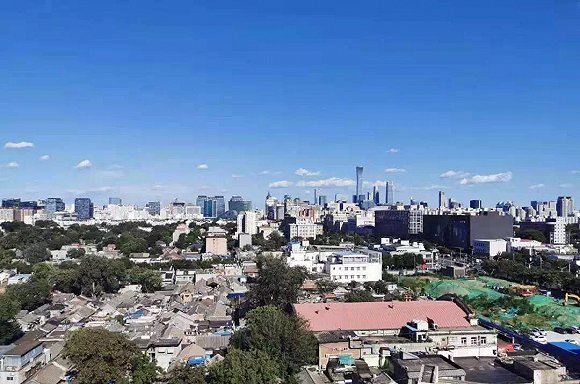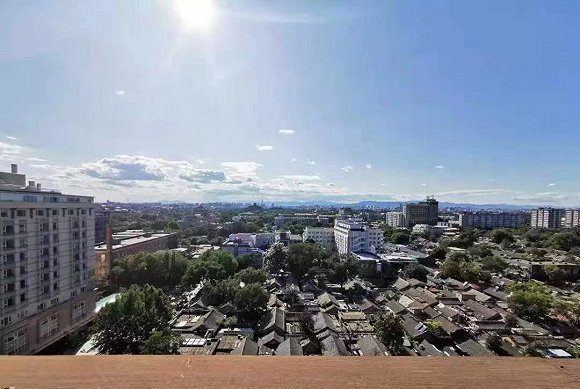 Longfu Temple is not only a story of the ebb and flow of a commercial district, but also a complex epitome of the city's changing landscape in the vicissitude of times. Just like the skyline from the ninth floor of Longfu Tower, the white tower of the Imperial Palace is on the west, representing the past, and the China Zun in CBD is on the east, representing the future.